Alan Shatter: Anti-semitic material sent to politician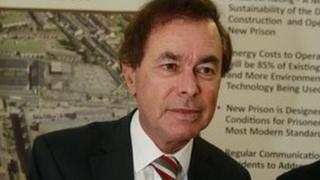 Irish army bomb experts were called to the home of Justice Minister Alan Shatter to deal with an anti-semitic hoax chemical threat on Wednesday.
A suspicious package containing white powder and racist abuse was delivered to his house in south Dublin.
It was quickly declared a hoax and the area was declared safe at 10:45 BST after a full-scale security operation.
Last year, he was targeted by anti-semitic posters in Limerick, reportedly posted by a far-right extremist group.
Irish Prime Minister Enda Kenny described the threat as a "new low" in Irish politics which, he said, has seen Jewish representatives for most of the mainstream parties down the years.
"This morning, at the home of the minister for justice, an incident occurred where an item in the post contained some anti-Semitic material and a substance which, when analysed, was harmless," Mr Kenny said.
Controversies
He said a "stream of similar material" has also been sent to the department of justice.
The justice minister has come under huge political pressure in recent weeks over a number of controversies involving the police force.
Last week, Chief Commissioner Martin Callinan stood down as the country's most senior police officer after dramatic revelations of a secret system recording telephone calls at police stations since the 1980s.
It is feared the taped conversations could threaten the outcome of past and present court cases, as well as the findings of long-running State inquiries.
A state inquiry has been launched into the recordings.
Two other investigations into the suspected bugging of the official police watchdog's headquarters and whistleblower allegations of wrongdoing within the force are expected to be completed later this month.
Two days have been set aside in parliament to hear debates on a vote of no confidence in Mr Shatter.