Killed Palestinian envoy 'mishandled explosive', police say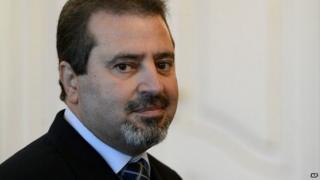 Czech police investigating the death of a Palestinian envoy have said he was most likely killed by "mishandling" an explosive.
Ambassador Jamal al-Jamal died in a blast at the Palestinian Embassy in the capital, Prague, on 1 January.
Police initially thought that Mr Jamal might have triggered a booby-trapped safe inside the complex.
But tests carried out by investigators suggest that he was holding an explosive in his hand when it went off.
The ambassador's death is being investigated as a case of negligence.
'Most likely option'
"The explosive was not placed on the door or inside the safe and was not there to protect the safe," police spokeswoman Andrea Zoulova said.
She said that "mishandling remains the most likely option", and confirmed that an experimental blast conducted by experts had supported this theory.
"There's a question of whether he knew what he was dealing with," Ms Zoulova added.
Police said they would need several more weeks to complete the investigation.
Several weapons and explosives that were not officially registered in the Czech Republic were discovered during a search of the embassy complex after the incident.
Palestinian authorities said the weapons, dating from the 1970s and 1980s, were gifts from officials in Czechoslovakia during the Cold War and apologised for not registering them.
Mr Jamal was born in Beirut and joined Yasser Arafat's Fatah faction of the Palestinian Liberation Organisation (PLO) in 1975.
He served in its missions to Bulgaria and Czechoslovakia in the 1980s. He was given the Prague post in October 2013 and had spent just two nights in his new residence before he died.
The PLO, which is recognised by the UN and Israel as representing the Palestinian people, has diplomats based in European and other capitals.