Ukraine angered by Russia PM Medvedev's visit to Crimea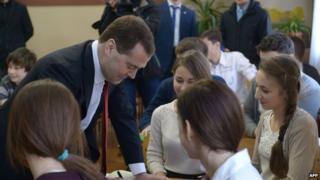 Ukraine has condemned a visit by Russian Prime Minister Dmitry Medvedev to Crimea, describing it as a "crude violation" of international rules.
The foreign ministry has sent a note protesting against the presence of an official in "the territory of another state without preliminary agreement".
Earlier, Mr Medvedev announced he would make Crimea a special economic zone.
Crimeans voted to leave Ukraine for Russia on 16 March, in a poll condemned as illegal by the UN General Assembly.
Tensions over Ukraine rose after the overthrow of pro-Kremlin Ukrainian President Viktor Yanukovych in February, following months of street protests.
'State priority'
In televised remarks during his visit to Crimea's main city of Simferopol, Mr Medvedev said the peninsula's development was a "state priority".
"People in Crimea mustn't lose anything after joining Russia, they must only make gains," he explained.
"People expect us to create conditions for calm and respectable life, confidence in tomorrow, the feeling of being part of a strong country. We must meet these expectations."
The prime minister announced that he had created a special ministry to oversee the development of Crimea, where two million people live.
It also would create a special economic zone to attract investors with lower taxes and reduced bureaucracy, and seek to ensure air fares from Russia would be cheap enough to develop the peninsula as a top tourist destination, he added.
He also vowed to quickly boost salaries and pensions, introduce Russian educational standards in local schools, and improve healthcare and local infrastructure.
Mr Medvedev added that Russia would work to ensure the peninsula had a stable power and water supplies. It currently gets about 80% of both from Ukraine.
Meanwhile, the lower house of Russia's parliament voted unanimously to annul several agreements with Ukraine that allowed the Russian Black Sea Fleet to be based at Sevastopol.
There were also conflicting reports about the number of Russian troops on the border with Ukraine.
A Ukrainian defence ministry official, Maj-Gen Oleksandr Rozmaznin, said the figure had dropped by as many as 10,000 soldiers, but noted this might be the result of a rotation of conscripts rather than a planned withdrawal.
The Russian defence ministry press service also reported that a motor-rifle battalion had completed its deployment in the Rostov region, which borders Ukraine.
Sources at Nato said there had been some indications of troop movements, but that it was hard to evaluate their significance at this stage, reports the BBC's Jonathan Marcus in Brussels.
A senior Western diplomat told our correspondent that the approximately 40,000 soldiers in place still offered a huge potential for intimidation.
'Illegal and illegitimate'
Mr Medvedev's unexpected visit to Crimea came after "frank" talks on Sunday between the US Secretary of State John Kerry and his Russian counterpart, Sergei Lavrov, ended without a breakthrough.
Mr Kerry told reporters in Paris that the US still considered Russia's takeover of Ukraine's Crimea region to be "illegal and illegitimate".
He said he had stressed that no decision on Ukraine's future could be made without Kiev's involvement.
Earlier Mr Lavrov said Ukraine should become a loose federal state - a suggestion Kiev has rejected as an attempt to dismember the country.
Russia's decision to take over Crimea has triggered a crisis in relations between Russia and the West.
The US and the European Union have imposed sanctions on members of President Vladimir Putin's inner circle and other officials. Russia has retaliated with its own sanctions on US lawmakers.