Slovak tycoon Andrej Kiska wins presidency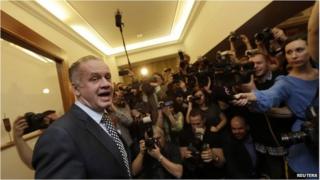 Slovak tycoon Andrej Kiska has won the country's presidential election, despite having no previous political experience.
Mr Kiska, standing for office for the first time, defeated current Prime Minister Robert Fico in the second round of voting.
Early poll counts suggested Mr Kiska had gained about 60% of the vote.
His victory stopped Mr Fico's social democrats from gaining control of both the presidency and parliament.
Correspondents say the prospect of social-democrat domination appeared to galvanised Mr Fico's opponents.
Mr Fico ended his campaign by wooing voters with tales of his traditional Catholic upbringing in an attempt to appeal to Slovakia's majority Catholic population.
He portrayed Kiska as a scientologist, a claim the tycoon denies.
Mr Fico has been in office since the 2012 elections, which saw a party securing an absolute majority in the Slovak parliament for the first time since independence.
The current election is being seen as a referendum on the prime minister's tenure, says the BBC's Rob Cameron in Prague.
"It's a new feeling to be voting for myself," said Mr Kiska, who has never previously run for office, as he cast his ballot in his provincial hometown of Poprad, in northern Slovakia.
French President Francois Hollande and European Parliament chief Martin Schulz had both backed fellow leftist Mr Fico.
Mr Kiska capitalised on his image as a newcomer untainted by allegations of corruption that have ravaged Slovakia's right-wing.
With no communist past, he is seen as a skilled businessman. He says he wants to fight corruption and create a more efficient government.
Mr Kiska will be sworn in on 15 June, when leftist incumbent Ivan Gasparovic's second term ends.