Irish secret police tapes: Gardai and journalists taped in recordings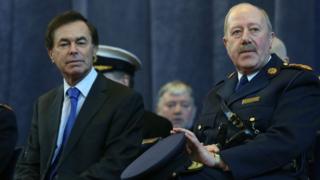 A witness in a crime investigation and journalists were among those whose calls were taped when they phoned Irish police stations, it has been reported.
The details emerged in a letter written by the former head of police, Martin Callinan, according to the Irish state broadcaster, RTÉ.
It was sent to the department of justice on 10 March.
However, a spokesperson for the Justice Minister Alan Shatter said he only saw it on Tuesday 25 March.
Garda (police) Commissioner Callinan resigned on Tuesday, following a controversy over whistleblowers.
Hours later, the Irish government announced an inquiry into claims of widespread secret recordings by police.
The letter from Commissioner Callinan to the justice department is understood to say that police officers themselves were also among those who were not informed that their telephone conversations were being recorded.
Ministerial statement
More than 2,400 recordings are being analysed, according to RTÉ.
Justice Minister, Alan Shatter, is due to make a statement to the Dáil (Irish parliament) later on Wednesday morning.
Opposition parties have said they want answers about exactly when the government found out that telephone calls to police stations were being recorded.
Mr Callinan's letter was sent to the justice department on 10 March, but it is believed Mr Shatter did not receive the correspondence until earlier this week, when he returned from an official St Patrick's Day visit to Mexico.
The letter was sent by courier to the department five days before Mr Shatter left for the trip.
However, it is understood the attorney general, who sits in the Irish cabinet, had been informed about the station recordings up to four months ago, and a working group had been established to examine the issue.
'Disgusting'
The garda commissioner stepped down from his post after months of controversy over the motoring penalty points system and his treatment of two whistleblowers who claimed the system was corrupt.
The whistleblowers, Sgt Maurice McCabe and now retired John Wilson, claimed that senior police officers had inappropriately wiped the penalty points from the driving licences of often well-connected offenders.
Mr Callinan had described the actions of the pair as "disgusting" but a subsequent inspection report largely vindicated the whistleblowers.
He is not the first Irish police chief to step down from his post at the height of a bugging scandal.
In 1983, the then Garda Commissioner Patrick McLaughlin took early retirement in the wake of revelations that police had tapped the phones of two journalists, Bruce Arnold and Geraldine Kennedy, allegedly on the instructions of the government.