Queen hosting Irish event at Buckingham Palace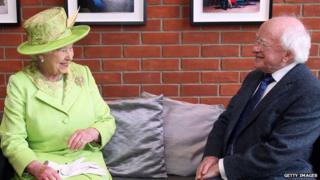 Over 300 Irish people from all walks of life will be guests at a reception in Buckingham Palace on Tuesday evening.
The event will be hosted by the Queen and the Duke of Edinburgh and will mark the contribution made by Irish people in Britain.
Guest are to include singer Imelda May, impresario Louis Walsh and designer Orla Kiely.
It comes ahead of the state visit of Irish President Michael D Higgins to Britain next month.
That will be the first state visit to the UK undertaken by the president of Ireland.
Preparations have been going on behind the scenes for months.
The intention is to build on the relationship that emerged when Queen Elizabeth II made her historic visit to Ireland three years ago.
In May 2011, the Queen became the first British monarch to visit the Republic of Ireland.
During her visit to Ireland, she paid her respects to republican dead at Dublin's Garden of Remembrance and visited Croke Park - site of the 1920 Bloody Sunday massacre.
She also made a speech on Anglo-Irish history at Dublin Castle.
On Tuesday, the Queen will host a reception for representatives of Irish community activity, the arts, sport and culture.
Other guest will include Cork fishmonger Pat O'Connell, who charmed the Queen during her Irish visit.
Also attending will be members of Britain's Irish community, like Tom Burke of the South London Irish Association and Alice Kennedy who runs the London Irish Pensioners Choir.
A group of UK-based Comhaltas musicians will perform as the guests arrive to the reception, which begins at 18:00 GMT.