Turks voice defiance over Twitter ban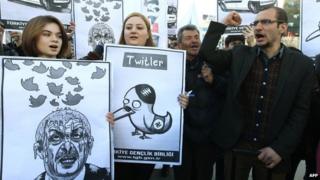 Some 2.5 million tweets were posted within three hours of Twitter getting blocked in Turkey.
Just before midnight on Thursday, over 10 million users started wondering why they could not access the site.
The reason soon became clear, as users who managed to access Twitter via workarounds started sharing screenshots of what appeared to be a statement by Turkey's telecommunications regulator.
The statement said "protective measures" had been taken against the social network following three court orders and a prosecutor's decision.
However, on Friday Istanbul's chief prosecutor was quoted by a Turkish daily as saying "no decision was taken by the prosecution" and the ban was of an executive nature.
Hints of the ban had actually come earlier in the day when Prime Minister Recep Tayyip Erdogan threatened to "wipe out" Twitter.
At an election rally in the north-western town of Bursa, he said: "We now have a court order. I do not care what the international community says. Everyone will see the strength of the Republic of Turkey."
'Civil disobedience'
The Twitter ban comes after wiretapped recordings of corruption allegations involving Mr Erdogan and members of his family were posted and shared online.
The prime minister said these recordings were fake and edited.
Turkey's internet watchdog, the Communication Technologies Institution (CTI), said it had previously asked Twitter to remove some content alleged to invade the privacy of others.
The watchdog stated that the ban had been introduced because Twitter "did not abide by the court decisions".
Earlier this month, the CTI was given extraordinary powers under a new internet law that tightened government control of the internet.
However, there is now a major debate about whether a court order to remove content could be interpreted as a blanket ban on the micro-blogging website.
Despite the ban, millions are still taking to Twitter in what has been called "an act of civil disobedience".
Reports suggest there has even been a surge of posted tweets since Thursday night.
This is largely due to the Turkish internet community getting increasingly tech-savvy because of past and present bans on various social websites.
Twitter users were able to continue posting by changing their Domain Name Settings (DNS) on their computers or downloading certain Virtual Private Network applications on their smart phones.
Advice on how to circumvent the ban was also broadcast on some television channels, published on liberal-leaning newspapers, and even shared on the streets as graffiti of DNS numbers emerged on walls.
Presidential protest
One of those who were able to post on Twitter was none other than Turkish President Abdullah Gul.
He posted five consecutive tweets and in one of these he said: "An overall shutdown of social media platforms cannot be approved."
Mr Gul also tweeted his "hope that this practice [of a Twitter ban] will not last for long".
At least four government ministers have joined him in his push for a lifting of the ban.
It is not the first time internet users in Turkey have been faced with a ban or blocking of access to social websites.
In 2008, the government blocked access to the YouTube website because of videos deemed insulting to the country's founder, Mustafa Kemal Ataturk.
Authorities lifted the ban in 2010.
Earlier this month, Mr Erdogan also threatened to shut down Facebook and YouTube "if necessary".
The European Union and the US have already expressed concerns over the present blocking on Twitter.
With local elections taking place in less than 10 days, many people in Turkey are concerned that the tension might increase.