Crimea: Yuri revels in reversal of fortune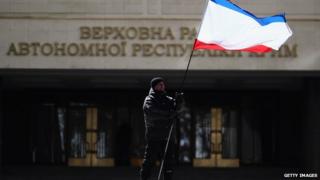 Last weekend a controversial referendum resulted in a vote in favour of Crimea leaving Ukraine and joining Russia. But it came 23 years too late for a man who was briefly president of Crimea.
The offer was both flattering and fleeting.
I had just finished my interview with Yuri Meshkov - an avuncular law professor, with neatly brushed white hair and a smart black jacket, worn over a black woollen jumper - when he smiled and grabbed me by the shoulder.
"Those were very good questions," he said, his moustache twitching with pleasure. "I really think you should be a diplomat. How about becoming the British consul in Crimea?"
A joke, perhaps - (no, definitely) - but it was not completely idle talk.
Because Mr Meshkov was the first - and so far only - president of Crimea.
He was elected in 1994, by a landslide, on a platform of reuniting the Ukrainian peninsula with Russia.
Like an eager suitor, he hopped on a plane to Moscow… only to find his overtures to Boris Yeltsin rebuffed.
The Russian president was far too concerned with building a relationship with the West to stir up the kind of trouble that annexing Crimea would have brought. Times were very different then.
For Mr Meshkov, Yeltsin's name is mud. He balked at using the Y-word when we spoke, contrasting the late leader's actions - or lack of them - with what he called current President Vladimir Putin's "officer's honour".
Our meeting took place in a small, private room in a restaurant on the outskirts of the Crimean capital, Simferopol.
Three of its walls were covered with a painting showing a clear blue sea stretching out under a clear blue sky and, in the foreground, a landscape contained everything from swaying poplar trees, to an incongruously placed windmill.
An imaginary country, he told me.
Crimea's new political landscape - one populated with masked men in military uniforms and aggressive and twitchy self-defence forces - had sparked his imagination, prompting him to return to the place he once ruled.
In 2011 Ukraine banned him from the country for five years for encouraging separatism but the arrival of Russian troops - and Crimea's uncertain status - had provided the cover he needed to come back.
As he spoke about his own experience, it became clear this was an ironic reversal of fortune.
As Russian soldiers in unmarked uniforms patrolled the streets outside, he sipped a cup of strong, black coffee and recalled how he had been removed by Ukrainian troops in 1995.
It was just a year after he was elected that the authorities in Kiev put a stop to his political hopes, passing a new Ukrainian constitution, which abolished the post of Crimean president.
Not that he went anywhere immediately: he began a sit-in, which was eventually ended on 16 March.
Nineteen years later to the day, the controversial referendum provided the pretext for his dreams of reunion to be realised.
When I asked him about the shortcomings of the vote, he brushed them off with a shrug.
What about the official figures showing that more than 100% of Sevastopol's registered voters had participated?
"Yes, there may have been one or two administrative problems, some miscalculations here and there," he conceded. "But that doesn't change the overwhelming result. You can pay people to demonstrate but you can't buy the joy of this entire region."
But his own joy was slightly tempered. We met on the day after the vote - in the brief window between Mr Putin recognising Crimea as a sovereign state and signing a treaty incorporating it into the Russian Federation.
It was the one day that Crimea was - in the eyes of the Kremlin, at least - a nominally independent state, albeit one on the path to rejoining Russia.
And although Mr Meshkov deftly dodged the question, when I asked whether he would like a second presidential term, I got the impression that he would not have said no.
In fact, as he reminded me, if a majority of Crimeans had ticked the second box on the referendum ballot paper, calling for a return to Ukraine's 1992 constitution - he would, technically, have been reinstated automatically.
It was not to be. The record will show that 97% of voters went for the simple choice: to become part of Russia.
And a man who battled for that for two decades - surviving, he claims, assassination attempts - is both a witness and a footnote to history.
The day after we met, Mr Putin signed the treaty with the current Crimean leaders, men who lack the democratic legitimacy Mr Meshkov once enjoyed.
He was removed from power by soldiers - they came to power at the barrel of a gun.
We left him, with his imaginary landscape, as he put on his coat and his flat cap and walked into the street to hail a cab.
His aides had disappeared - together with his hopes of becoming president of Crimea - and my hopes of becoming the British consul, if only for a day.