'Dancing rioter' Alexander Bain jailed after 12 July march protest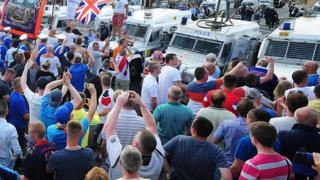 A Scottish man who attacked police officers and danced on top of a police vehicle during a riot in north Belfast has been jailed for 15 months.
Alexander Bain, from Hillpark Drive, Glasgow, was described as a "main aggressor" in a crowd of loyalists who attacked police lines last summer.
Bain also exposed himself to officers.
The riot broke out in the Woodvale area after a loyalist band was banned from marching past a section of the Crumlin Road, Ardoyne, after a 12 July parade.
The Parades Commission ruled that the marchers were not allowed to walk past the Ardoyne shops on their return route from the main parade.
'Heroin addict'
During intense rioting that followed the march, police officers were hit with petrol bombs, masonry, bottles and other missiles.
About 20 officers were injured, five of whom were hospitalised.
A prosecution lawyer told Belfast Crown Court that Bain, a 53-year old heroin addict, was involved in several incidents during the disorder.
They included climbing on top of armoured police vehicle, where he danced on the roof, kicked a metal grill and gestured that he was urinating on officers.
When warned about his behaviour, the court was told Bain used aggressive language and gestures towards police.
He also kicked a police shield, threw several missiles at police lines and stuck a PSNI vehicle with a large pole and bared his bottom at officers.
'Carried away'
Riot officers used plastic bullets during the disorder and Bain was hit and injured by one of the rounds.
He was arrested two days later, but had to be taken to hospital because his plastic bullet wound had become infected.
When he was interviewed on 18 July, Bain told police he "got carried away" and pleaded guilty to a charge of rioting.
A defence lawyer told the court his client suffered from a number of health issues, including chronic hepatitis.
He added that when shot by the plastic bullet, Bain was holding an item of clothing, and not a missile as was originally suspected by police.
'Followed the crowd'
The defence lawyer said Bain was a "frequent visitor to Northern Ireland, attending events like this".
The lawyer added that, after attending the main 12 July demonstration, Bain "followed the crowd and ended up in the Woodvale area".
Passing sentencing, the judge accepted that the defendant had addiction and health issues, but said that due to his actions last July, "this man must go to prison".
Bain will spend 15 months in custody with a further 15 months spend on supervised licence upon his release