Ger Brennan's 'inclusive' speech praised by gay rights groups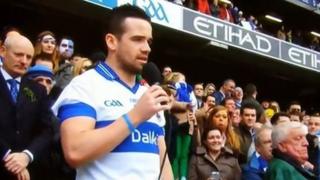 A championship-winning GAA captain has been praised by gay rights groups for his "inclusive" winner's speech.
Ger Brennan thanked the "girlfriends and boyfriends of the players" after Dublin's St Vincent's defeated Castlebar Mitchels in the All-Ireland Club Championship in Croke Park on St Patrick's Day.
His words were spoken in front of thousands and broadcast live on TV.
A gay rights group described it as "the most progressive GAA speech ever".
Brennan was speaking moments after leading Dublin side St Vincent's to victory in the All-Ireland Club Championship senior final.
It is customary for the winning captain to make a speech thanking supporters for their efforts throughout the year.
Respect
He said: "To the family, girlfriends, boyfriends of the players and everyone involved, there's a lot of work that goes into playing for your club team and the county, and there's always an awful lot of support behind us.
"People don't often see that so I'd like to give thanks to all the families and friends."
In a statement online, The Rainbow Project said: "No big deal some might say but the nonchalant delivery says a lot about this guy and the inclusiveness of this speech and the sport.
"Hats off to Ger."
Irish gay rights campaigner and drag queen Panti Bliss tweeted: "Love the casual inclusivity of this. And not an eyelash was batted. Respect."
In 2009, All-Ireland championship winning hurler Donal Óg Cusack became the first GAA star to come out as gay.
In January, his younger brother and fellow hurler Conor Cusack also came out.