Early rounds fired in sanctions war against Russia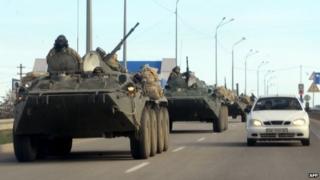 All sanctions are intended to persuade, to change minds and to raise the cost of courses of action.
President Putin and his close circle will on Monday have been watching Brussels and Washington, trying to decipher their determination to hurt Russia over its actions in Crimea.
The acid test is whether the steps of the West carry conviction and reflect resolve.
EU foreign ministers have taken a cautious, modest step.
Putin's 'inner circle'
Twenty-one Russians and Ukrainians have been targeted for asset-freezes and travel bans.
But the ministers decided against cancelling a scheduled EU-Russian summit later in the year.
Meanwhile, the US government has imposed financial sanctions on 11 Russians and Ukrainians whom it holds responsible for the operation in Crimea.
It has also given itself the right to impose sanctions on named officials of the Russian government and any designated individual or entity that operates with the Russian arms industry.
Economy 'in crisis'
The next round comes on Tuesday when President Putin addresses both houses of the Russian parliament.
If he moves to formally annexe Crimea on the basis of the weekend referendum that will trigger further sanctions from the EU at their summit on Thursday and Friday.
But these are the early rounds.
Another step would be to target those in President Putin's inner circle.
Everyone knows the real question is whether the EU is prepared to move towards economic sanctions that affect Russian exports and business.
Such measures can take many forms, including the full sanctions that did such harm to the Iranian economy.
We are a long way from that point. It would require a unanimous decision from the 28 EU members and there are many doubters.
German Foreign Minister Frank-Walter Steinmeier warned that any measures must leave "ways and possibilities open to prevent a further escalation that could lead to the division of Europe".
His Dutch counterpart said he would "do anything possible to avoid sanctions because I believe everybody will suffer".
Italy, Spain and Greece - among others - would take a lot of persuading.
But that is the dilemma for Europe - it will only carry conviction if it is prepared to accept some pain itself.
And Russia's weak point is its economy.
Its Deputy Economy Minister, Sergei Belyakov, said on Monday that "the economy shows clear signs of a crisis".
The Russian Central Bank has so far spent more than $16bn (£9.5bn) defending the rouble.
Long way apart
Russia has begun laying out its vision to end the Ukraine crisis.
It envisages an international support group - but Ukraine would have to recognise Crimea's secession.
Kiev would have to adopt a new constitution upholding Ukraine's military and political neutrality.
Although the Europeans have asked for a "contact group", the two sides are far apart.
And all the time there is the risk of an outbreak of violence. Ukraine has announced a partial mobilisation of its forces and requested equipment from Nato.
British Foreign Secretary William Hague said on Monday: "I wouldn't describe it as a new Cold War, but of course this will depend on the course of events over the coming days."