French website ordered to remove secret Sarkozy tapes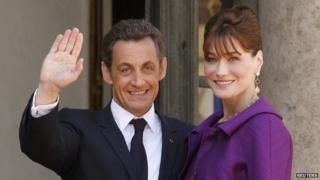 A French court has ordered a news website to remove the recordings of secretly taped conversations of Nicolas Sarkozy during his time as president.
Judges also sentenced a former aide, Patrick Buisson, to pay damages for making the recordings, some of which involved Mr Sarkozy's wife Carla Bruni.
The couple took legal action after the audio appeared on Atlantico's website.
The site said it already taken down files featuring Ms Bruni because she was not a politician.
The so-called Sarkoleaks scandal, which broke in early March, caused turmoil in Mr Sarkozy's party, the opposition centre-right UMP.
Although embarrassing, the transcripts were mostly harmless and contained no political bombshells.
Controversial figure
On Friday, the court in Paris ordered Atlantico to immediately remove the files or face daily fines.
It also ordered Mr Buisson, 64, to pay 10,000 euros (£8,350: $13,900) in damages to the former president and his wife. Lawyers for the couple welcomed the ruling.
A highly controversial figure whose political origins lie on the far-right, Mr Buisson was credited with engineering Mr Sarkozy's election win seven years ago by pushing him to toughen his stance on immigration and crime, correspondents say.
At the trial, it emerged that Mr Buisson had recorded hundreds of hours of conversations, using a dictaphone kept in his pocket, during Mr Sarkozy's 2007-12 term.
Mr Buisson's lawyer argued in court the tapes had been made to help him to keep a proper record of all discussions with Mr Sarkozy and other officials.
In the recordings, the ex-president is heard discussing confidential affairs of state but also sharing private chats with his wife, Carla Bruni.
At one point, she jokes about having to put her modelling career on hold while she was first lady.
"I thought I was marrying a guy with a salary," she is heard saying. "I had big contracts and now nothing."
The leaks also contain excerpts in which top officials boast of their influence over Mr Sarkozy and express scorn over his wife's presence at meetings at the Elysee.
Mr Sarkozy, who is expected to run again for president in 2017, was said to be furious after the story broke.