Uli Hoeness trial: Football magnate's fall from grace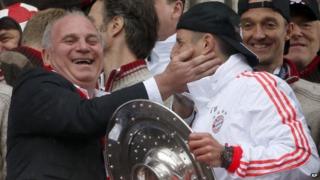 Everybody wanted to be seen with Uli Hoeness. On the day he took the call from a well-wisher tipping him off that he was being investigated for tax fraud, he was having lunch with Angela Merkel. That's how well connected he was.
He was a favourite of chat show hosts, offering opinions in an avuncular fashion. He told one journalist, with a degree of hubris as it now turns out: "I may be stupid to do it but I pay all my taxes."
He added that he thought taxes should go up. People liked him because he had made it very big but still had the humble demeanour of the ordinary guy.
His fame seemed well earned. He was, after all, a World Cup winner on the field and the builder of one of the world's most successful clubs off it.
He played for Bayern and then hung up his boots to serve the club as an executive - and fans love that kind of loyalty. When the tax scandal broke, he offered his resignation at a Bayern meeting but the fans chanted his name until he broke down in tears. His resignation was not accepted.
Rags to riches
He was true rags to riches - or rather butcher's apron to riches. His father was a butcher and Uli Hoeness turned the small family business into a mass producer of sausages. Hoeness' skill with money made him more money and his skill with his feet made him famous.
Fame brought the powerful carrying money to Bayern. He turned the club into what it is today, the Champions of Europe and the certain winner of the Bundesliga with the season nowhere near over.
Uli Hoeness, through his charm and financial acumen, attracted huge corporate sponsors. Adidas, Deutsche Telekom, Allianz and Audi all provided big money in order to associate themselves with the image of success the club exudes - unbeaten for 49 games in the Bundesliga and on course to retain the Champion's League trophy after knocking Arsenal well and truly out on 11 March.
Adidas and Audi own an 8.3% stake in the club.
The Bayern Munich board reads like a corporate who's who of Germany: the chairman of Volkswagen, the chairman of Audi, the chairman of Adidas - all under the presidency of Uli Hoeness. One imagines that the atmosphere in the boardroom might get a little frosty in future.
Uli Hoeness may still have some time. In court, he admitted cheating the tax authorities out of 27 million euros ($37.6m: £22.5m. That is not in doubt - though some think the figure could be higher.
But he is going to appeal, and that appeal centres on whether an amnesty should have applied to him when he came forward in January 2013.
Hoeness was under the impression that a deal could be done with the authorities, whereby he admitted the existence of the secret accounts and agreed to pay the back tax plus interest in return for no publicity and no criminal charge against him.
But the prosecution said in court - and the judge agreed - that he had only come forward when he knew the investigators might be after him, something which would negate any amnesty. On top of that, the prosecution argued that he had not come forward with the full details. He had not been open about what he had done.
Right through the trial, the amount he was accused of hiding from the authorities rose and rose. It may be that he simply did not know how much tax he owed - which in the eyes of the law is no defence.
Gambling obsession
Whichever way the appeal goes, there is no doubt that he evaded taxes on a massive scale.
"I deeply regret my wrong-doing", he said at the start of the trial on Monday. He added that he wanted to put "this unhappy chapter" behind him.
That may not be so easy. The atmosphere has turned against tax cheats in Germany.
The government has pursued them with two weapons: an amnesty for those who make full disclosure (which the judge found Hoeness hadn't done, but an appeal court may yet overturn), and information in the hands of the German authorities about Germans with Swiss bank accounts.
This information was gained because tax officials bought the data from someone who had taken it from the Swiss banks, much to their annoyance.
The government says this last tactic was a price worth paying to get back the billions the rich dodgers have failed to pay.
Uli Hoeness' problem stemmed from his obsession with gambling. He would trade on the stock market and currency markets many times a day.
He has said: "At times I was trading day and night with sums that are hard for me to comprehend today, sometimes the amounts were extreme.
Hoeness used a multi-million euro loan from his friend who also happened to be the head of a big German company.
Once it was in the Swiss bank account and out of the sight of the German authorities, he may have thought he could get away with it.
It turns out he couldn't.