Siptu airport strike blocked after High Court ruling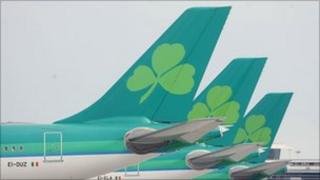 A planned airport strike by Irish union Siptu has been blocked after the High Court in Dublin granted an injunction against it.
The Dublin Airport Authority (DAA) and Ryanair sought the injunction to prevent industrial action this Friday.
The strike was set to occur between 05:00 GMT and 09:00 GMT at Dublin, Cork and Shannon airports.
The DAA has welcomed the High Court ruling and called the proposed strike "unwarranted".
Siptu members at the DAA and Aer Lingus were due to hold the four-hour strike over changes to their pensions.
Aer Lingus staff are opposed to changes being made to their pensions without consent.
DAA staff also face pension reform.
Following Wednesday's judgement at the High Court, the DAA said it had "no choice" but to apply for the injunction to ensure the airports continued to operate as normal.
A DAA statement added: "The DAA calls on Siptu to fully focus on engaging with the government sponsored expert panel, that was established last week, to seek a fair and sustainable resolution to the broader pension issue."
At the High Court on Monday, DAA lawyers claimed 10,000 passengers were due to fly in and out of Dublin airport during the four-hour strike period.
DAA counsel also said the airport authority faced losses of "millions of euros".
However, a Siptu counsel defended the union's right to take industrial action.
The dispute centres on a 750m euros (£618m) deficit in the pension scheme that covers staff at Aer Lingus and the DAA.