Switzerland probes Uzbek leader's daughter Gulnara Karimova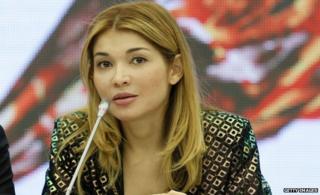 Prosecutors in Switzerland have opened a money laundering investigation into Gulnara Karimova, the eldest daughter of the president of Uzbekistan.
In a statement, the public prosecutor said she was now part of an inquiry already looking at alleged wrongdoing involving four Uzbeks linked to her.
The investigation involves the business activities of a Swedish telecoms firm.
Ms Karimova, 41, had her diplomatic immunity lifted last year when she lost her post as Uzbek envoy to the UN.
A flamboyant businesswoman as well as a pop star in her home country, she is believed to have broad commercial interests in the Central Asian republic, ruled by her father Islam Karimov for more than two decades.
The public prosecutor revealed on Wednesday that she had been under investigation since September 2013 and that her villa in Cologny, just outside Geneva, had been searched by police the previous month, a few weeks after her immunity was lifted.
She is believed to have left Geneva after her role as permanent UN ambassador there came to an end.
Swiss Attorney General Michael Lauber told Geneva daily Le Temps that Ms Karimova's diplomatic immunity had previously prevented any action from taking place.
A sum of 800m Swiss francs (£550m; $910m; 650m euros) has been frozen as part of the inquiry, although the origin of the money is not yet clear, officials say. Several searches have also taken place in France.
Four Uzbek nationals have been under investigation since the summer of 2012. Two were held in custody but released a few months later.
Swedish-Finnish company TeliaSonera, which is partly state-owned, was accused in a 2012 Swedish TV report of paying an intermediary company, Takilant, $300m for 3G mobile phone rights in Uzbekistan.
Although TeliaSonera strongly denied any wrongdoing, the case was taken up by Swedish prosecutors.
The Swiss authorities did not name TeliaSonera in their statement but said their Swedish colleagues were involved in a corruption inquiry linked to various acquisitions made by a "Swedish enterprise" in the Uzbek telecoms market.
In a statement to the BBC, TeliaSonera said: "We are currently co-operating with the preliminary investigation that the Swedish prosecutor is carrying out with the hope that it concludes as soon as possible and with the hope we find out what transpired."
The company had a new board, chairman and chief executive and there had been many changes, it added.
A few months ago, Ms Karimova denied any involvement in the TeliaSonera case.