Six children hospitalised due to Maynooth pool 'vapour'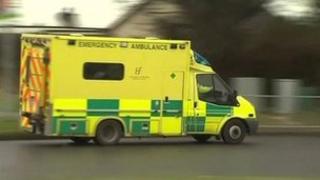 Six children have been hospitalised following an incident at a swimming pool in the Republic of Ireland.
Twenty-five primary school children had been attending a swimming class in NUI (National University Ireland) Maynooth, County Kildare, when they were exposed to chemical vapours.
The university said the vapour was caused by chemicals entering the ventilation system.
The children are being kept in hospital as a "precautionary measure".
NUI Maynooth and the Health & Safety Authority are investigating the incident.
It is reported that at around 10:30 GMT, the children, all under nine, began to cough and feel nauseous when the vapour leaked into the pool area.
In a statement, NUI Maynooth said the vapour entered the air conditioning system during a maintenance operation.
They added: "The swimming pool was immediately evacuated and 25 children were assessed by both the University's Medical Team and the National Ambulance Service.
"Due to the age of the children, they were brought to hospital to be assessed. Nineteen children have since returned to their school with six children remaining in hospital as a precautionary measure."