Rotterdam tram pile-up leaves 33 hurt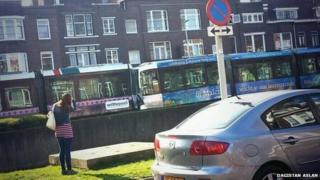 Three trams have crashed into each other in the Dutch city of Rotterdam, leaving 33 people hurt.
Twenty-nine were taken to hospital, mostly with neck and back injuries. Some were in a serious condition.
Police are not clear what caused the pile-up on the Breeplein, a major tram stop in south Rotterdam.
But one witness described seeing a tram run into two stationary trams at a platform. One of the tram drivers was reportedly among the injured.
Monday's accident was the third involving trams in recent weeks, the Volkskrant newspaper reported.
A collision between two trams near Delft left 19 people hurt last week.
In January, four people were slightly injured in an accident in The Hague.