Rare eagle found shot dead in County Tipperary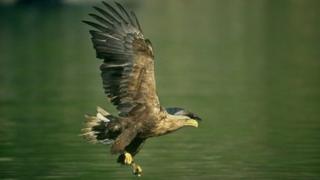 A rare eagle has been found shot dead in north County Tipperary.
An x-ray of the male white-tailed eagle showed its body holding between 45-50 shotgun pellets.
A post-mortem examination showed the impact broke one of the bird's legs and wings, but it managed to survive several weeks before dying.
The bird was one of two young, reared by a mating pair at a nest on Lough Derg in County Clare.
It was part of a project aimed at re-introducing the species to Ireland.
It successfully flew from its nest in July 2013 along with its sibling and was last seen at Lough Derg, County Tipperary, in January.
The Irish government said its body was found after information was supplied to the Department of Arts, Heritage and the Gaeltacht's National Parks and Wildlife service.
The death has caused outrage amongst conservationists and politicians in the Republic of Ireland.
"I am shocked by this crime," said Fine Gael TD Jimmy Deenihan.
"The birth of this bird was a special day for nature conservation in Ireland. So much work has gone into reintroducing this species here, and there has been wonderful cooperation by many different groups to achieve successful breeding."
Reintroduction project manager, Dr Allan Mee, said it was "heart-breaking".
"It is absolutely incomprehensible that someone would shoot one of these magnificent birds, but even more shocking is that one of the first two Irish-bred eagles has been shot only seven months after leaving the nest," he said.
White-tailed eagles are protected under the Republic's Wildlife Act (1976) and it is an offence to shoot or otherwise harm the species.
The Irish white-tailed sea eagle reintroduction programme released 100 of the birds between 2007 to 2011.
Only one pair has bred so far.