Aer Lingus strike: Siptu meets over St Patrick's weekend planned action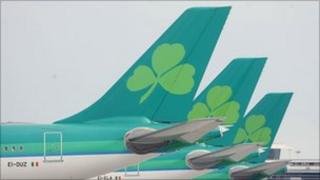 Officials from Irish trade union, Siptu, are to meet later to discuss a planned strike at Aer Lingus and the Dublin Airport Authority (DAA).
Workers are due to hold a four-hour stoppage on Friday 14 March, as the St Patrick's weekend begins.
There has been no indication that the union intends to call off the strike.
The planned action follows the breakdown of talks aimed at resolving a dispute over cuts in pension benefits at Aer Lingus and the DAA.
The union said it was serving notice because of the companies' refusal to engage in meaningful talks or to present reasonable or fair proposals to address the pensions problem.
Aer Lingus said that on Tuesday, it will start rebooking customers who would be affected.
It is understood Dublin, Shannon and Cork airports will be affected by the strike. A Siptu spokesman said there was no pensions issue in Belfast.
The dispute centres on the restructuring of the joint Aer Lingus/Dublin Airport Authority pension scheme, which has a deficit of around 780m euros (£642m).
Employees fear that their benefits will be significantly reduced as a result.
Last month, Aer Lingus ruled out increasing its offer of a 110m euros (£90.5m) lump sum to offset cuts in pension benefits due to the deficit.
A further 30m euros (£24.7m) has been earmarked to shore up benefits for former employees who have not yet retired.
The trustees of the pension have outlined their proposals for addressing the deficit, which include cuts of 20% in benefits for those who have not yet retired, as well as reductions for retirees in line with recent legislation.