Morocco-France row over Hammouchi torture claims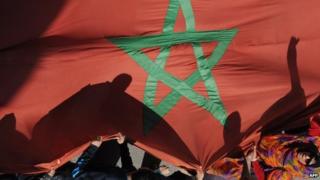 Morocco is to suspend all judicial co-operation with France following a diplomatic row over lawsuits in Paris that accuse the kingdom's intelligence chief of complicity in torture.
Abdellatif Hammouchi is accused of involvement in the torture of an activist who was jailed in 2013.
French President Francois Hollande has telephoned the king of Morocco in an attempt to defuse the disagreement.
Morocco has close ties with its former colonial power.
Mr Hammouchi strongly denies the allegations.
The lawsuits were filed by a Paris-based activist group, Action by Christians for the Abolition of Torture (Acat).
They cover the case of Ennaama Asfari, an activist for the independence of Western Sahara who was arrested in 2010. He was jailed for 30 years in 2013 on the basis of confessions allegedly signed under torture.
A mainly desert territory in north-west Africa, Western Sahara is the subject of a decades-long dispute between Morocco and the Algerian-backed Polisario Front.
Morocco summoned the French ambassador on Saturday in protest.
Moroccan officials are also reported to be upset over the decision to send seven French police officers to the ambassador's residence to inform Mr Hammouchi of the summons. He was in Paris accompanying the interior minister on a visit and strongly denies the allegations.
In his telephone call to King Mohammed VI , President Hollande reassured him of France's "constant friendship" and its willingness to "dispel misunderstandings".
But correspondents say that the gesture did not pacify thousands of protesters who demonstrated outside the French embassy in Rabat on Tuesday.
Morocco has been a strong ally of France despite facing condemnation from rights groups over police abuses, press freedom and judicial independence.