Anger over Sweden jobs recruitment fair blunder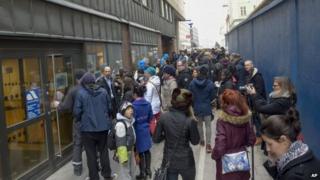 Police in the Swedish capital Stockholm had to restrain a large crowd after an email invitation for a recruitment event was accidentally sent to 61,000 instead of 1,000 jobseekers.
Police spokesman Ulf Lindgren told the AP news agency that several thousand people arrived for the event.
It was intended to be an opportunity for unemployed people to meet potential employers.
Mr Lindgren said that while many people were upset, no arrests were made.
Clas Olsson, acting director general of the employment service responsible for sending the invitation, said he deeply regretted the mishap and wished to send his apologies to all those affected.
"Something has gone wrong with the mailing list... It has set off a very messy situation at the city office," Mr lsson was quoted by Reuters news agency as saying.
The email for the event was sent to all the registered job seekers in Stockholm, police said.
Hundreds of hopefuls crammed into the alley where the labour office is based, while many spilled into the adjacent street - a main thoroughfare that goes through downtown Stockholm.
When some in the crowd became agitated staff alerted police.
Mr Olsson was quoted in the Aftonbladet newspaper as saying that he did not know if the cause of the error was human or technical.
Sweden's total unemployment stood at 8.6% in January, Reuters reported.