Alexei Navalny house arrest bid by Russian investigators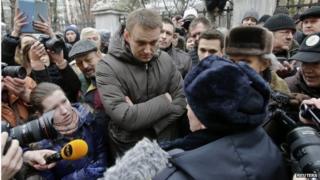 Russian investigators have asked a court to put opposition leader Alexei Navalny under house arrest.
Officials say he has repeatedly travelled outside Moscow, in breach of an undertaking not to do so.
He is already serving a five-year suspended sentence for the alleged theft of 16 million roubles ($450,000; £270,000) from a timber firm in 2009.
Critics of Russia's President Vladimir Putin accuse the Kremlin of stepping up pressure on dissent in recent weeks.
Navalny is also a defendant in an embezzlement and money laundering case, known as the Yves Rocher case.
The campaigner and anti-corruption blogger insists his legal difficulties are Kremlin reprisals for his opposition, including helping to lead a series of anti-government protests in 2011 and 2012.
He was detained twice by police on Monday: once at a rally outside a court passing severe sentences on other activists for their part in an anti-Putin protest in May 2012, and again at a larger unapproved rally near the Kremlin.
At the second protest he was charged with resisting arrest, and on Tuesday he was jailed for a week.
Nearly 500 others were also arrested, between that protest and another in St Petersburg.
According to Russian law, Alexei Navalny's latest conviction allows authorities to extend his original suspended sentence and, if he is charged again, convert it to jail time.
Unsanctioned demonstrations have become rare since the government signed anti-protest legislation in 2012, levying heavy fines and sometimes jail terms on protesters.
While the recent rallies were called to protest against the sentences on seven people arrested in Moscow's Bolotnaya Square in May 2012, some demonstrators also made shows of solidarity with the protesters in Ukraine, who brought down President Viktor Yanukovych last week.
Mr Putin's critics say the crackdown on dissent in Russia is taking place with an eye to upheaval in neighbouring Ukraine.
On Wednesday, Russian President Vladimir Putin also ordered a snap drill to test the combat readiness of troops in central and western Russia, near the border with Ukraine. Such exercises are not uncommon, although the timing is seen as significant, correspondents say.