Ukraine's Maidan protesters stand their ground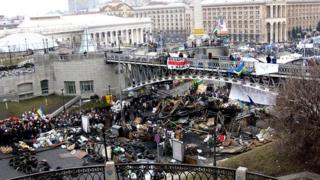 Kiev's Independence Square, the Maidan, is the place where Ukraine's latest revolution began, but now that ousted President Viktor Yanukovych is gone, the protesters haven't disappeared.
They are beginning to worry that the interim leadership is ignoring them.
"Some politicians think they are our leaders," says Andriy Pikul, a 26-year-old entrepreneur from Lviv, who wears a camouflage jacket with a yellow and blue ribbon, the colours of the Ukrainian flag.
"Some think we are here because of them, but that's a mistake," he adds.
The Maidan protesters are wary of most politicians and see their role as holding their feet to the fire, to ensure they deliver on their promises.
After months of camping out in freezing temperatures, some are beginning to grow concerned that they are being given the cold shoulder.
City within a city
In the yellow domed theatre that serves as their headquarters - just as it did during the Orange Revolution of 2004 - we heard complaints that the opposition parties were providing fewer buses for people who want to travel to Kiev from other parts of the country.
"Now is not the time to stop," says Nelli, from Ivano-Frankivsk. "If we don't get more volunteers here, who will put pressure on the MPs?"
Passions are running high in this small city within a city, made up of a cross-section of society.
The Maidan, built in the very centre of the Ukrainian capital, has the feel of a medieval fortress, fenced off with piles of tyres, sandbags and wooden packing cases.
As you enter its metal gates, there are stalls serving free food, ranging from "euro borsch" beetroot soup, to slices of bread slathered with a traditional Ukrainian delicacy, a potent mixture of pork fat and garlic called salo.
Discipline is high, almost military. There is a strict no-alcohol and no-drugs rule and a constant stream of volunteers, donating time and money to the cause.
To the untrained eye it may appear to be a counter-cultural phenomenon, something akin to the Occupy movement.
But former diplomat Bohdan Yeremenko believes the Maidan is an expression of pure Ukrainian culture, with its roots in history.
Back in the 17th Century, peasants who escaped serfdom would create self-governing communities on the small islands on the River Dniepr.
Mr Yeremenko, who was fired for publicly opposing the original crackdown on the protesters in November, sees the Maidan as a recreation of this tradition.
"When we feel oppressed, we start to build fortresses," he says.
The Maidan "fortress" is peppered with shrines to those killed by snipers last week. Photographs of the dead are surrounded by icons, candles and piles of fresh flowers.
"He was like a son to me," says 60-year-old Slavik, looking at the picture of his friend, Vyacheslav, pinned to a Ukrainian flag. "He went out on to the streets to fight the police, even though he didn't have to. We gave him a hero's funeral in Lviv."
Slavik invites us inside his tent, where we find several people sitting around a table. A wood-burning stove keeps out the cold and there are a couple of beds where the residents take turns to sleep.
New distractions are popping up every day.
The latest source of amusement is a darts board, on to which are pinned pictures of Viktor Yanukovych and his loyal lieutenants.
If you land a dart in a forehead, you get a bonus throw. The queue for the game is a long one.