Bulgaria Soviet monument in Sofia gets Ukraine twist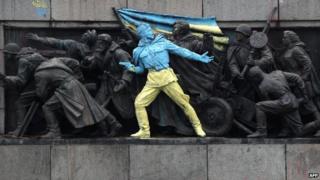 A Soviet monument in Sofia, Bulgaria has been painted in the colours of the Ukrainian flag, sparking protest from Russia.
Unknown artists painted the Monument to the Soviet Army on Saturday night, local media reported.
Russia has since demanded an explanation of the "vandal incident", the Itar-Tass agency reported.
It is the latest in a series of modifications of the monument which have tried to make political points.