Poland's crucial role as Yanukovych's rule crumbled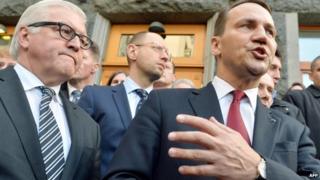 No-one would call Poland one of Europe's superpowers but it played an important role in the final hours of the presidency of Ukraine's Viktor Yanukovych.
As the number of opposition protesters killed by Mr Yanukovych's security forces around the Maidan rose last Thursday, the foreign ministers of three European Union countries were called in to negotiate a peace deal.
No surprise that heavyweights Germany and France were there but alongside them was Poland's Radoslaw Sikorski.
It was Mr Sikorski who was filmed warning an opposition leader that if he didn't support the deal "you'll have martial law, you'll have the army and you will all be dead".
The agreement was signed but never implemented because immediately afterwards President Yanukovych left the city and his security personnel abandoned their posts at government buildings.
"Yanukovych did something unheard of. After signing the agreement, he went to a meeting outside the city which seems to have been planned earlier, without appreciating the psychological impact it would have," Mr Sikorski told Polish Radio on Tuesday.
"Maybe he planned his escape but he had no obligation to remove the security from the government buildings and this allowed the opposition to occupy them without firing a shot," he added.
Mr Sikorski said he saw security forces with machine guns and a sniper on Kiev's streets before the negotiations started. He posted a photo of this on his Twitter account.
"People were being killed at that very moment," he said. "Yanukovych proved himself to be as bloodthirsty as possible, ready to use force and that's why the negotiations were so dramatic.
"But at the moment they started - and they went on all through the night without a break - the killing stopped," he added.
Poland's negotiating role has been praised both at home and abroad.
"Once the agreement was signed, it turned the tables against Yanukovych because his supporters realised his power was waning and it was time to jump ship," Konstanty Gebert, a columnist for the leading Polish daily, Gazeta Wyborcza, told the BBC.
"I think Poland played a very useful and constructive role in negotiating the situation on the Maidan."
Poland has long pushed for the European Union to have closer ties with Ukraine. Warsaw would like to see a stable, democratic Ukraine join the EU because it would enhance Poland's security, shifting it closer to Europe's heart.
Poland's leading role in the negotiations may improve its standing inside the EU.
"I don't think it would have been possible to broker the deal without Poland," Marcin Zaborowski, director of the Polish Institute of International Affairs, told the BBC.
"The relationship with Ukrainian activists was developed over years and it paid off. It's inconceivable now to create a serious EU initiative towards the East and bypass Poland. A few years ago it was entirely possible - now, it's not the case," he added.
Mr Sikorski's approach to negotiating with the opposition has been criticised by Poland's main opposition party, Law and Justice.
Its leader, Jaroslaw Kaczynski, said that by the time Mr Sikorski was warning the opposition of the dangers, President Yanukovych had lost too much support to use more violence to crush the opposition.
The Polish foreign minister's tough stance played into Mr Yanukovych's hands, Mr Kaczynski said.
Mr Sikorski said documents released on Tuesday prove President Yanukovych had plans to use greater force.
"I was right that a bloody end to the Maidan was still possible and the documents now being issued show that it was possible. Above all, it was my duty to warn the opposition how serious the situation was," he said.