Wire-tap claims worry Turkish media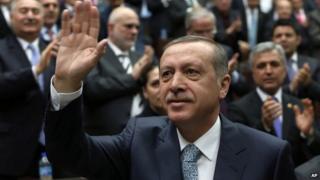 Turkish Prime Minister Recep Tayyip Erdogan has angrily dismissed as a "shameful montage" an audio recording that is alleged to show him talking to his son about hiding large sums of money.
He said the recording, allegedly a tapped phone conversation, was a "treacherous attack". Hours before the recording appeared on social media websites, the Turkish government alleged that a group of anti-government Turkish prosecutors had illegally wiretapped thousands of prominent figures.
Pro-government newspapers say targets reportedly included government ministers and business leaders who were allegedly tapped by supporters of US-based cleric Fethullah Gulen, a former ally of the prime minister. Turkish media on Tuesday were disturbed by the revelations.
Abdulkadir Selvi in pro-government Yeni Safak
We are now face to face with a phone-hacking scandal that is bigger than Watergate… We now have a "Gulengate" scandal.
Ahmet Kekec in pro-government Star
The people who were listened to show us that the wiretaps were recorded for "blackmailing" purposes… The wiretaps also point to a "plan". A plan that might potentially have political implications.
Melih Asik in centrist Milliyet
We can also see that the "deep state" [said to be a network of army officers, business leaders, secularists and arch-nationalists seeking to undermine or overthrow elected governments] is gaining legitimacy… Actually a "secret police state" is being established. We are passing from an authoritarian order to a totalitarian one.
Hasan Celal Guzel in pro-government Sabah
Unfortunately, constitutional guarantees on "the privacy of private life" and "freedom of communication" have become just words.
Bulent Korucu in pro-Gulen Zaman
What is frightening is that wire-tapping has become so prevalent. I would tell the authorities to hold people accountable but this would be meaningless given that Prime Minister Erdogan is holding rallies every day by using recordings obtained via illegal wire-tapping.
Hakan Aksay on independent news website T24
These wiretaps are all allegations. Can we ignore them by saying that they have not been authenticated? No. This is because for a long time our country's political processes and struggles have already been conducted through wire-taps, blackmailing, strengthening intelligence, undermining people and cheap tricks.
BBC Monitoring reports and analyses news from TV, radio, web and print media around the world. For more reports from BBC Monitoring, click here. You can follow BBC Monitoring on Twitter and Facebook.