Can Italy's young political stars deliver?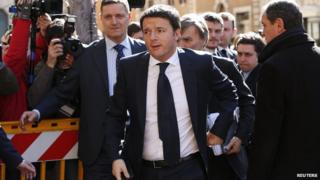 In his first address to parliament, Italy's new Prime Minister Matteo Renzi has talked of the need to bring "radical and immediate change".
With the nation having endured years of economic stagnation and malaise, he spoke of it being a "rusty country" that was "gripped by anxiety".
Instead, Mr Renzi said, it had to become a land of opportunity.
His speech to the upper house marked the climax of an extraordinary rise to power.
Mr Renzi has never been elected to parliament, and he has never served in a national government.
In one giant stride he has gone from being the Mayor of Florence to becoming prime minister - at the age of 39, the youngest in Italian history.
Confident
Matteo Renzi is desperately lacking in experience, but he is not short of self-belief.
As he made his inaugural speech in his new role, there were few signs of nerves.
He sketched out his plan for reform in his usual, sweeping, confident style.
Mr Renzi began his address to the senate by saying he wanted to transform it radically.
This would be just part of a package of major constitutional reform.
But the economy is of more immediate concern to countless struggling Italian families.
Around 40% of young Italians are out of work.
And Mr Renzi, who is leader of the Democratic Party (PD), talked of planning reforms that would reduce taxes on businesses and make it cheaper for firms to create jobs.
He also said that public agencies, like councils and hospitals, would pay the huge debts they owe to businesses.
The justice system would be reformed, and school buildings repaired on a large scale.
And all this is to happen at high speed. The raft of reforms is to be driven through by the end of June.
Big picture
The Renzi plan was immediately welcomed by the influential big-business confederation, Confindustria.
Its president, Giorgio Squinzi, said he was "cheered" by the talk of job-creating tax cuts for employers.
But economist Professor Gustavo Piga had doubts as to how much impact this would have.
He said that a large part of the problem was that Italians were too worried about the economy to spend and consume.
"Unless there's more demand, the fact that the cost of hiring has gone down won't necessarily make a difference," he said.
Mr Renzi would no doubt argue that this opening speech to Parliament was not a time to go into any great explanation as to how this or that reform would be implemented.
This, he would say, was a time to paint the big picture.
But all the same, until the details emerge it will be difficult for many Italians to really believe in the Renzi vision.
And from some of his opponents there was lacerating scorn for the absence of detail.
Giorgia Meloni, of the right-wing Fratelli d'Italia grouping, described the speech as a "confused list of good intentions".
The reforms would cost tens-of-billions of euros, but there was no indication where the resources would come from.
It was, she said: "An address that would have been successful on a Sunday afternoon at a bar or, at the most, during an electoral rally. But that has little to do with a government programme."
Young cabinet
As the prime minister delivered his address, looking on seated to his left and right were his ministers.
These are the figures Mr Renzi has chosen to make real all that he's promised.
It is a small team of just 16 members. For the first time, half the posts have gone to women.
And with an average age of 47, this is Italy's youngest-ever cabinet.
It embodies that generational change that is so much a part of the Renzi story.
But there is a widespread feeling that it is a lightweight cabinet; like its prime minister, lacking in experience.
"Renzi's choice of ministers made it clear that the government is all about him, as none of his appointees come close to matching the PD leader's political clout," wrote Wolfango Piccoli, an analyst for Teneo Intelligence.
"All in all, the cabinet's composition suggests that there is only one person in charge: the prime minister, who remains utterly untested in terms of national politics."
And writing in Corriere della Sera, Gian Antonio Stella said a lot more was being demanded of this new leader compared to his predecessors.
"He is asked - as he has promised 1,000 times - to 'change Italy'. A commitment that would overwhelm even a government of statesmen and champions."
And during his speech Mr Renzi acknowledged the weight of responsibility that he now bears.
"If we lose this challenge, the fault will be mine alone," he said.
And in order to begin to try to meet the challenge, the Renzi government first needs to win a confidence vote in both the senate and in the lower house in the days ahead.
That ought to be a formality. But there will be particular attention as regards the size of the majority he secures in the upper chamber, where the Democratic Party has less room for manoeuvre.