Too posh for Paris?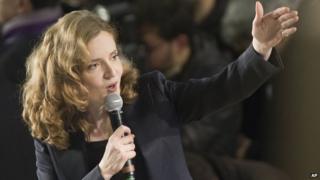 After 13 years of Socialist control, it's time to ring the changes at Paris Hotel-de-Ville.
At least, that's the opposition plan.
As their candidate in next month's city elections, the centre-right UMP has invested a glamorous 40-year-old, all youthful modernity, who used to serve as former President Nicolas Sarkozy's spokeswoman.
The problem is: it's all gone poire-shaped for Nathalie Kosciusko-Morizet.
Far from NKM (as she's universally known) leaping ahead in the polls, a consensus is building in Paris that she hasn't got a hope.
Instead it is Anne Hidalgo, the Spanish-born deputy to the city's current mayor Bertrand Delanoe, who looks set to take the prize.
Aloof
So what's gone wrong for the right? Why - with a left-wing French president at record lows in the polls - is Paris bucking the national trend? What's wrong with NKM?
One answer - even for people favourably disposed to her ideas - is simple: she's too upper class.
"This isn't going to sound very complimentary, but I just think she's too posh, too aloof - and it shows," says Thibault Dornon of the free-market think tank Generation Libre.
"As soon as she opens her mouth, you just think: OK, she is from the wealthier districts of Paris and probably doesn't care about how the other half lives."
NKM would certainly contest the accusation. She says her policies aren't aimed at the rich but at middle earners. She wants to encourage work and entrepreneurship, and stop the middle-class exodus to the suburbs.
But the image keeps getting in the way. And it's even worse when she tries to correct it.
Recently she had Parisians squirming when she said she found Line 13 of the Metro system "a place of charm" where she has "moments of grace". Quite clearly, Line 13 (one of the grottiest) is not her regular means of getting about.
And there was more embarrassment when she was photographed sharing a cigarette with some down-and-outs.
It may have been intended to show her social conscience, but once again it merely invited mockery.
Paris 'asleep'
Things should have been a lot easier for NKM. She has intelligence, experience and connections, while her relative youth has a clear appeal to the young.
Outgoing mayor Bertrand Delanoe remains a popular figure, but after a dynamic first term his more recent achievements are less obvious. His team (like Ms Hidalgo) feel like they've been there for ever.
Increasingly comparisons are made between Paris and other cities, especially London, and they are not favourable.
"Delanoe has put Paris to sleep; we want to wake it up again," says NKM's spokeswoman Valerie Montandan, herself a candidate for the town-hall of the 12th arrondissement (district).
Young people complain of difficulties finding jobs and flats - the market in both is rigid by comparison with London. Businesses find it hard to get off the ground. Most shops have to shut on Sundays.
"There is so much more energy in London. It's palpable," says Dornon. "Everyone from Paris who goes to London for a weekend comes back saying, 'Wow, things are really happening across the Channel.'"
And on a national level, President Hollande is so unpopular it seems impossible for Socialist candidates at municipal elections not be dragged down in his wake.
And yet this does not seem to be happening in Paris.
"There is an Hollande effect in Paris, but it is just not very big," says Opinionway pollster Bruno Jeambert.
"Paris is not like the rest of France. People are in general better-off and better-educated and more liberal in their ideas. That 20% of the population that does still actually support President Hollande is disproportionately represented in the capital.
"On top of that, the Paris voting system does not favour the right, because right-wing voters tend to be concentrated in a handful of arrondissements. We calculate the UMP needs 52% of the vote just to be even with the Socialists."
Lack of leadership
But the other big problem holding back NKM is the problem of the French right in general.
Ever since Nicolas Sarkozy lost the presidency to Francois Hollande in 2012, the right has been in search of leadership and direction.
Party bigwigs Jean-Francois Cope and Francois Fillon put on a show of unity, but their enmity is legend - and both are haunted by the prospect of a Sarkozy return.
The result is that the UMP has failed to take serious advantage of the travails of the Socialist president.
Into the breach has stepped not just the far-right National Front, but also a collection of non-party "movements" taking to the street on issues such as taxation, gay marriage and general anti-Socialism.
It is all out of the hands of the "official" opposition.
"The really incredible thing about the Paris election is that there is such a hugely unpopular Socialist government, and yet the Socialist candidate will probably be the next mayor," says political commentator Andre Bercoff. "And therein lies the crisis of political representation that besets our country today."