Italy PM Matteo Renzi vows radical change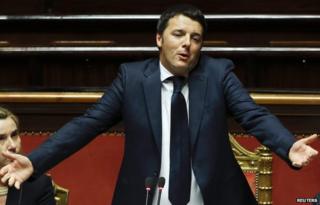 Italy's newly sworn-in Prime Minister Matteo Renzi set out a "bold vision" of reform, hours before winning a crucial confidence vote in his new government.
Mr Renzi proposed election law changes, tax cuts and investment in jobs to tackle Italy's ailing economy.
The Democratic Party leader also said he wanted to abolish the upper house of parliament as a law-making body.
Early on Tuesday, his broad coalition won a vote of confidence in the Senate by 169 votes in favour to 139 against.
He still needs to win a second confidence vote later on Tuesday in the lower house, where his centre-left Democratic Party holds a strong majority.
The Democratic Party leader, who is not an MP, acknowledged that at 39, he was not even old enough to be a member of the upper house.
The minimum age for a senator is 40.
He told senators he wanted to start reforms to the upper house as early as next month.
The Senate vote, and the majority Mr Renzi managed to secure, was seen as a key test of his power to unite warring factions in Italy's parliament.
However, he failed to secure a larger majority than his rival Enrico Letta whom he swept from power earlier this month. Mr Letta won 173 votes in the 320-seat upper house as recently as December.
The 16-strong government, in which half the ministers are women, has an average age of under 48, the youngest in modern Italian history.
Mr Renzi, who is also mayor of Florence, told the Senate on Monday that Italy, the third biggest economy in the eurozone, had to get serious about tackling its public finances.
It was not because of pressure from German Chancellor Angela Merkel or the head of the European Central Bank, he said, but because "we have to do it out of respect for our children".
Mr Renzi said he wanted to
Immediately pass a series of electoral and constitutional reforms to restore credibility to politics
Cut the payroll tax by the end of June to make it cheaper for companies to hire staff
Increase welfare payments for the unemployed
Establish a programme of school building
Consider increasing taxes on financial earnings from investments to pay for labour reform
The new prime minister has named a cabinet largely unknown outside Italy, with Pier Carlo Padoan of the Organisation for Economic Cooperation and Development given the post of economy minister and Mr Renzi's PD party colleague Federica Mogherini replacing Emma Bonino at the foreign ministry.
Two figures in Italian business, Federica Guidi and Giuliano Poletti, have been given the industry and labour portfolios.