Ukrainian society: Fractured and fearing for the future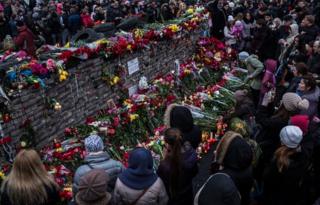 Kiev's Independence Square has been turned into a giant memorial complex.
Dozens of impromptu shrines to dead anti-government activists are scattered around the movement's camp and its barricades.
Sunday was a day of mourning and people poured into the square. At the shrines, piles of flowers became mountains and the candles became a glowing sea.
After the previous day's jubilation at the flight of Viktor Yanukovych, the reality of what happened finally seemed to be sinking in.
People stood silently in front of the shrines with stunned expressions, as if the incomprehension and grief was too great to process.
Ukraine at the moment is like a bone with a small fracture - many small fractures in fact. Support and attention could help them heal, maybe even make the body grow stronger. But added pressure could make them rupture even further.
Different agendas
The issue is whether the new government is capable of starting that healing process. Vitaly Klitschko, a boxer turned politician, recognised the urgency of the situation. "We do not have much time," he said.
At the moment, opposition leaders are speaking with one voice. But this may be only temporary.
Their different political agendas and ambitions may emerge now that the unifying goal of deposing Mr Yanukovych has been achieved.
And then there is the matter of Ms Tymoshenko.
As her dramatic speech in Independence Square on Saturday night demonstrated, the last two and half years of incarceration have not diminished her rhetorical power.
She remains a formidable politician and operator. If she is determined to, she will undoubtedly become a major force in Ukraine once again.
But she is also a divisive, and ultimately disruptive, figure. For many on the Maidan she also represents much of what is wrong with Ukraine's political class as a whole - filled more with more ambition than imagination, ability or honesty.
Cautious Kremlin
Much speculation has been devoted to whether or not there is an East-West split in Ukraine. There is. Even if separatism is not an immediate threat - and this remains to be seen - the east and south have their own economic and cultural concerns, which have contributed to Ukraine's long-standing political dysfunction.
It should be remembered that many in the industrial east echoed Mr Yanukovych's concerns over the possible economic consequences of the planned association agreement with the European Union.
Although his popularity has waned amongst traditional supporters, that does not mean they necessarily back the people that were - until Saturday - the opposition, or their new administration.
Already there have been demonstrations against the incoming government. In Sevastopol in Crimea on Saturday thousands of people waved placards calling for "Mother Russia" to save them.
Many in the east and south greatly distrust the Euromaidan movement and its leaders. Even if they acquiesce for now, that does not mean they will continue to do so in the months to come.
But right now, Ukrainians are waiting to see what the next move will be of two people in particular - Viktor Yanukovych and Vladimir Putin.
Mr Yanukovych says that he is still the country's president, but he has still not spelt out what he is prepared to do to assert this. It is not even clear where he is.
Officials around Mr Putin have expressed their disquiet at what has happened in Ukraine, but so far have not said what they will do.
Kremlin officials have indicated they might delay an economically vital $2 billion loan to Ukraine, pending "what the position of the new government will be." But, at the same time, they floated the possibility of an IMF bailout as a replacement.
The carrots, and especially sticks, that Moscow has at its disposal are many. If Russian officials choose to, they could easily add to the pressure on Ukraine's already dangerously fractured society.