Ukraine media: mixed views on Tymoshenko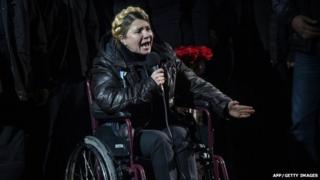 A day after the Ukrainian parliament voted to remove President Viktor Yanukovych from office, media commentators are focusing on another momentous event: the release of his jailed arch-rival Yulia Tymoshenko.
Many journalists - even those opposing Mr Yanukovych - are against her possible return to power, saying Ukraine needs new faces.
But in Russia one website argues that she still has the clout needed to "restore order" in Ukraine.
"That's enough, Yulia" says a blog post by Serhiy Leshchenko, one of the most influential journalists in Ukraine.
"I do not want the future president of Ukraine - a country that has experienced bloodshed - to be described as a person with a corrupt past. But if Tymoshenko becomes president, that's exactly what I am going to do," Mr Leshchenko wrote on the Ukrayinska Pravda website.
Another prominent journalist, Mustafa Nayem, voices similar scepticism.
"Let's be frank, there are few people who want to see her return to politics," he says on Facebook. If she's back, Ukrainians risk repeating the same mistakes they have been fighting for so long, Mr Nayem warns.
'Don't sell out'
Journalist Yevhen Kuzmenko also has doubts about Ms Tymoshenko as Ukraine's next leader. "Have you noticed how many people start by saying 'I'm glad that she's been freed, but...'?" he asks on Facebook. The main "but" for Mr Kuzmenko are rumoured links between the former prime minister of Ukraine and Russia's President Vladimir Putin.
Prominent activist and reporter Oleksandr Aronets has a stern warning for whoever takes charge of Ukraine: "Many people have said this already, but I must say this too: the main important thing is that they don't sell out. Otherwise, they will be crucified by their own people."
An article on the Levy Bereg website speaks of Ukrainians' collective guilt for the bloodshed in Kiev. "It is not just officials who are to blame for the killing of so many people. You and I are to blame, too," says journalist Viktoriya Herasymchuk.
She argues that ordinary Ukrainians have been indifferent for too long to the many problems afflicting their ailing state. Now, she goes on, it is time for a radical overhaul of the way Ukraine is run.
"If the only thing that changes are the names of officials, we will all be complicit in the murder of protesters," the journalist writes.
Glavcom, a news website, interviews several commentators about Ms Tymoshenko's release.
Political analyst Vadym Karasyov says it is bad news for Vitaly Klitschko, a boxer-turned-politician and leader of the second-largest opposition faction in the Ukrainian parliament after Ms Tymoshenko's Fatherland. "Klitschko is stunned," Mr Karasyov says.
Another commentator interviewed by Glavcom, Volodymyr Fesenko, argues that Yulia Tymoshenko will try to sideline those opposition leaders who were prominent while she was in jail. In turn, they are likely to "cooperate, even oppose Yulia Tymoshenko", says Mr Fesenko.
'Stabilising factor'
Prominent Russian news website Lenta.ru, however, is more optimistic about Ms Tymoshenko's return. "When the fighting in Ukraine may turn into a civil war, some experts think Tymoshenko could become a stabilising factor," the website says. Russian political commentator Leonid Ivashov tells Lenta.ru that she has "more clout" than the other opposition leaders and could "restore order".
The website of the Russian state-run daily Izvestiya, which usually describes opposition activists in Ukraine as "armed extremists" and "militants", has now switched to calling them "people's patrols" and "self-defence groups".
"Kiev is meeting Tymoshenko. Her release can dramatically change the role of other opposition leaders," the article says.
The government's official Rossiyskaya Gazeta daily, normally supportive of Mr Yanukovych, now accuses him of "bringing Ukraine to bloodshed and division". But, the daily's website argues, he did this "under Western pressure."
BBC Monitoring reports and analyses news from TV, radio, web and print media around the world. For more reports from BBC Monitoring, click here. You can follow BBC Monitoring on Twitter and Facebook.