Italy's PM-designate Matteo Renzi names new cabinet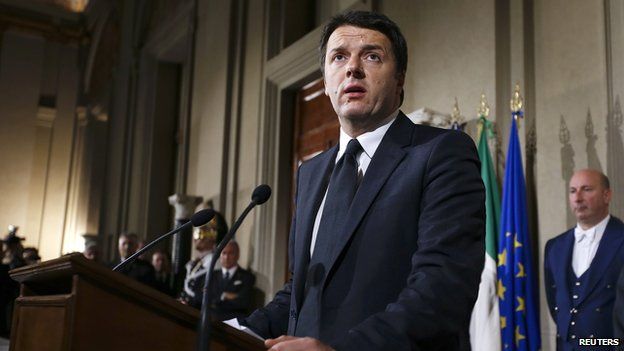 The Italian centre-left leader, Matteo Renzi, has formally accepted the mandate to lead a new government, and has named his cabinet.
At 39, Mr Renzi will be Italy's youngest prime minister. He is due to be sworn in as PM on Saturday.
The Democratic Party leader has spent several days negotiating with factions to formalise his coalition.
Mr Renzi ousted his party colleague Enrico Letta, who had led Italy for just 10 months.
The PM-designate has an ambitious plan for the country, promising to overhaul the jobs market and the tax and education systems within four months. He had criticised Mr Letta's administration for the slow pace of economic reforms.
The new finance minister will be Pier Carlo Padoan, a senior economist at the Paris-based Organisation for Economic Co-operation and Development.
The head of the Democratic Party's centre-right coalition partner, Angelino Alfano, remains as interior minister.
Half of the new Italian cabinet will be women.
The new government will have to win a vote of confidence in parliament, expected on Monday, before it starts work.