Michael O'Shea: Ardglass man buried in coffin he built for himself in garden shed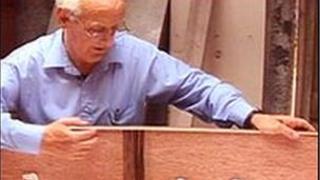 Homemade and proud of it... a County Down man who wanted to spare his family the expense of a big funeral has been buried in the plywood coffin that he designed and built for just £75 in his garden shed.
Michael O'Shea from Ardglass decided to make his own casket 13 years ago, so that his sons would not be burdened with steep funeral costs.
He died this week at the age of 81 and his funeral took place in Ardglass on Friday.
The former art and design teacher was surprised at how much interest the decision to build his own coffin created.
He told BBC Radio Ulster's Sunday Sequence presenter William Crawley in 2006, that he was "absolutely amazed at the interest shown in the simple process of making a coffin".
"I suppose it is because I am making it myself. But hey - DIY bread-making or wine-making doesn't make news. Why coffin-making? I leave you to answer this."
Mr O'Shea's decision to go for a "frugal funeral" attracted a lot of interest at the time, he appeared on television and the Daily Mail turned up to interview him.
It was after a health scare that Mr O'Shea started to investigate the cost of funerals and felt that DIY might be the way to go.
He designed and built his coffin in his garden shed, across from his house.
"I designed it myself. I drew up the plans and went in and bought two sheets of plywood - 8ft by 4ft.
"I cut it, glued and screwed it together. The total cost was £75," he told the BBC in 2006.
He even added a half-inch nylon rope so that it could be lifted.
At the time, Mr O'Shea said some people might consider his decision "ghoulish" but he called it "common sense".
It was, he said, "a simple matter of economic and personal necessity".