Germany arrests three suspected Auschwitz guards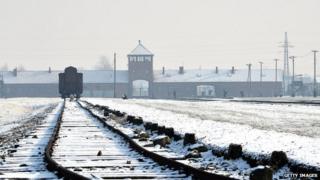 Three men aged 88, 92 and 94 have been detained by German authorities on suspicion of being guards at the Nazi death camp at Auschwitz.
The homes of a number of men were raided in three German states, months after prosecutors investigating Nazi-era war crimes announced they were recommending charges against 30 people.
The three men taken into custody have been sent to a prison hospital.
More than 1.1 million people, most of them Jews, were murdered at Auschwitz.
The three men detained all live in the south-western state of Baden-Wuerttemberg and are suspected of involvement in murders that took place between 1942-45. They were taken to Hohenasperg prison hospital in Ludwigsburg, reports say.
Raids also took place in the states of Hessen and North Rhine-Westphalia, although none of the suspects was arrested.
The decision to take action against alleged Nazi guards followed the conviction in May 2011 of John Demjanjuk.
A court decided that by being a worker at a concentration camp he was guilty of being an accessory to murder. This meant that courts did not have to prove active participation in killing to find a suspect guilty of murder, BBC Berlin correspondent Stephen Evans reports.
Demjanjuk, who died in 2012 aged 91, had denied being a guard at the Sobibor death camp in Nazi-occupied Poland.
He had been sentenced to five years in jail for being an accessory to the murder of 28,060 people but died in a home for the elderly while the case was pending appeal.