Enda Kenny promises to investigate 'very grave' police allegations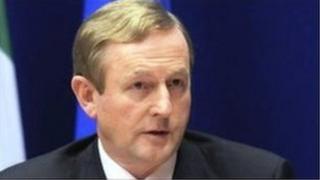 The Irish prime minister has pledged to examine documents that make "very grave" allegations about police investigations.
Enda Kenny received the documents from Fianna Fáil leader Micheál Martin on Wednesday night.
Mr Martin said the documents allege a series of murders, abductions and serious assaults, and were given to him by a police whistleblower.
Mr Kenny said he would examine the documents "very carefully indeed".
Earlier on Wednesday, the justice minister, Alan Shatter, had sacked the Garda Confidential Recipient Oliver Connolly.
Mr Connolly had been appointed in 2011 as a point of contact for police whistleblowers.
Wrongdoing
He was sacked after claims of an inappropriate conversation with whistleblower Sgt Maurice McCabe.
Another whistleblower, retired officer John Wilson, said that officers in the force who wanted to report wrongdoing would now have nobody to turn to.
Mr Wilson added that government plans to change the law to allow the Garda Síochána Ombudsman Commission (GSOC) to accept reports of wrongdoing would take some time.
He said whistleblowers should go to the parliament or to anti-corruption organisation Transparency International Ireland.
Meanwhile, an inquiry into reports of bugging of the GSOC will be chaired by retired judge John Cooke.
He will be able to assess any evidence of an alleged security breach and make recommendations to improve security arrangements.
He can also take oral evidence from witnesses.