Why the Dutch speed skaters beat the world at Sochi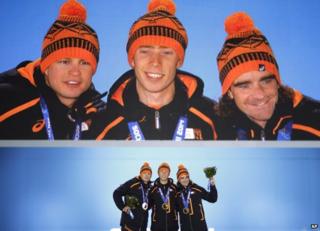 Sochi has been a dream for the Dutch. With a record-breaking 24 medals, the 2014 Winter Games represent the country's most triumphant Olympics ever and most of their golds were in ice-skating.
The secret lies here at the Thialf stadium in Heerenveen, where the Olympians do their training.
"We invested in it. This didn't happen by accident," says stadium director Eelco Derks.
The northern town of Heerenveen, population 30,000, is renowned for sporting achievement. The front pages have been toasting its local heroes since the Sochi Games began.
"You know, if you look at where the Dutch champions come from, and if you take those from just this area, they would still be ahead of whole countries in the Olympics. Sixth, I think, skaters from here alone," Mr Derks tells me.
We walk from the director's office towards the rink, through a tunnel decorated with skating memorabilia, into the bright lights and booming beats of the stadium.
Thialf is one of the fastest low-lying rinks in the world.
"The engineers who built Sochi came here last year to learn how to make the ice fast, how to control the airflow," Eelco Derks tells me proudly. "They modelled it on this rink. I would say that Thialf is the mother of Sochi."
Hein Ottespeer, a professional speed skater, narrowly missed out on a place in the now record-breaking Sochi team.
"It's very hard and still difficult for me to talk about. My team-mates are there smiling and living their dreams on the podium, while I am sitting at home alone watching them in front of the TV."
In the Netherlands you have to be among the best in the world to retain a place in the national squad, such is the competition here.
"Every day when we are training it is like a world championship," he tells me.
"On Saturday night, we don't mess around. Everyone wants to win and we sacrifice everything for this. It means we are constantly competing and pushing each other to go faster."
He crouches to an impossibly and, for me painfully, low position: "If we get down low enough then we have the same resistance, but our legs are longer so we can push with longer strides and we have stronger muscles so we push harder too."
Ice-skating is arguably the most popular pursuit in the Netherlands. Any sport with such mass appeal attracts advertisers. So are the Dutch pro-skaters driven by the financial incentives?
Hein Ottespeer laughs shyly and looks away: "We're not allowed to discuss it. There is a clause in our contract. But let's just say we have nothing to complain about."
When it comes to speed skating, resistance is crucial.
At the Technology University of Delft, aeronautical engineer Nando Timmer holds up two-inch (5cm) long, millimetre-thick zigzag strips. These were the prototypes for a simple yet revolutionary innovation in skating.
He applied his scientific knowledge of aeronautics to athletes, recognising that keeping air close to the body and making it leave the body at the narrowest point allowed you to reduce turbulence or drag.
Modern designs now incorporate this turbulence minimising technology. These days it is not just the Dutch that use it.
Skating culture
The Netherlands has a long history of competitive skating. The Elfstedentocht - or 11 cities competition - dates back to the 19th Century. It is a gruelling race across 200km (124 miles) of canals that can only take place when they freeze. When that happens, barely once a decade, more than 10,000 people sign up to compete.
But Olympic success came relatively recently.
Eelco Derks has an explanation: "Around 15 years ago the Dutch decided that this is something we can win. It's already in our DNA. So we invested in the infrastructure to make it happen."
They say in the Netherlands children learn to walk at two, skate at three and cycle at four.
Junior schools across the province of Friesland incorporate skating into their curriculum with twice-weekly outings to the rink.
Ten, 11 and 12-year-olds are running through the familiar drill, pulling on their hats and lacing their boots.
I hobble over to join the children on the ice, trying to ignore their bemused stares. Huge screens attached to the ceiling are projecting Olympic coverage above our heads.
Three girls come swishing across the ice to offer some advice.
"Don't wobble."
"Be sure of yourself, have confidence."
"Don't go like that and push your skates out to the side."
I ask them what they dream of doing when they grow up.
"I dream of winning a gold medal."
"Me too, I want to win an Olympic gold."
The third girl nods: "Olympic gold."