Pope Francis: Irish senators want papal visit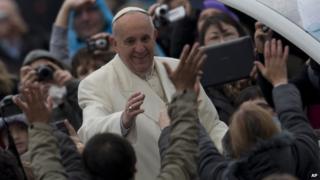 Irish senators have passed a motion inviting Pope Francis to the Republic of Ireland.
Independent senator David Norris, who proposed the motion, described the pontiff as a man with a "prophetic, compelling and comprehensive vision".
He said he believe a visit by the Pope would "lift the spirit of Ireland" and begin the "healing process".
Mr Norris was the the first openly gay candidate for the presidency of Ireland.
The only Papal visit to Ireland was by Pope John Paul II in 1979.
The committee on procedures and privileges had already made a unanimous decision to add the Pope to a list of distinguished visitors to address the upper house of the Irish Parliament, Seanad Éireann.
Mr Norris said he did not believe the Pope "is going to campaign for gay marriage or women priests".
However, he said he had "changed the entire climate of debate within the Catholic Church, allowing for genuine dialogue".
He said "Christendom is in a perilous state and the pontiff "is a man who has spotted the iceberg and is trying to turn Titanic around".
Mr Norris also referred to Pope Francis's links with Ireland and said he was partially educated at Milltown Park in Dublin.
The motion was seconded by Independent Senator Seán Barrett, who said the visit would "enhance Irish society immensely".