Swine flu: Case confirmed at Cork hospital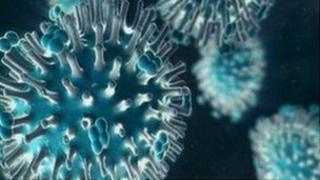 A case of swine flu has been confirmed at Cork University Hospital in the Republic of Ireland.
The hospital said some other patients were displaying symptoms of the H1N1 flu virus but were not confirmed as suffering from it.
As a precaution, the hospital has closed off one ward and introduced visitor restrictions.
A doctor at the hospital said the regular flu vaccine is enough to protect against the swine flu virus.
Dr Bartley Cryan told state broadcaster RTÉ that visiting restrictions were brought in after an increase in the number of flu cases at the hospital.
There are currently 118 cases of confirmed hospitalised influenza, above the national threshold of 21 cases per 100,000.
The rate now stands at 42.5 cases per 100,000, though this number is expected to drop in coming weeks.