County Donegal: Irish soldier on explosives charges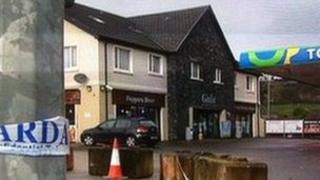 A serving member of the Republic of Ireland's Defence Forces has been charged with possessing explosives.
Mark Cassidy, of Grianan Vale, Ballyderowen, Burnfoot, County Donegal, appeared before a special sitting of Letterkenny District Court.
He was charged with two counts of possessing explosives, and of possessing 87 shotgun cartridges.
He was remanded in custody to appear again at Letterkenny District Court on Monday 24 February.
A second soldier arrested in connection with an explosives find in Burnfoot, in County Donegal, on Monday has been released without charge.