French police question industrialist Serge Dassault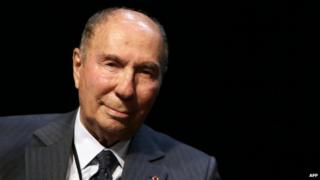 The billionaire French industrialist and senator Serge Dassault has been detained for questioning over alleged vote-buying in a Paris suburb.
Police are questioning him about his activities in Corbeil-Essonnes, where he was mayor between 1995 and 2009.
The parliamentary immunity of Mr Dassault, 88, was lifted on 12 February at his own request, the French daily Le Monde reports.
Dassault Aviation is a major producer of jets, including the Rafale fighter.
Mr Dassault, a senator in the centre-right UMP party, requested the lifting of his parliamentary immunity in order to defend himself against the vote-buying allegations and prove that he had acted correctly, Le Monde reports.
He is ranked as France's fourth-richest man, with an estimated fortune of 13bn euros (£11bn; $18bn).
The Gaullist UMP was the political launchpad for former presidents Nicolas Sarkozy and Jacques Chirac.
An ally of Mr Dassault, who succeeded him as mayor - Jean-Pierre Bechter - was charged last month.
Two other aides - Cristela de Oliveira and Younes Bounouara - were also charged. Ms de Oliveira is suspected of allocating council flats to families who agreed to vote for Mr Dassault or Mr Bechter.
The 2008 election result was annulled by the Council of State - a top legal advisory body. It found evidence of vote-buying, and investigators are now considering whether to prosecute Mr Dassault, the AFP news agency reports.
Magistrates are examining suspicious transfers of millions of euros between France and Lebanon in connection with the affair, Le Monde reports.