Two Irish soldiers arrested over Donegal pipe bomb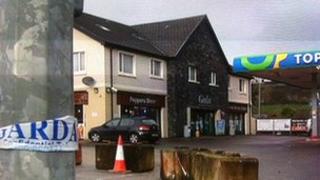 Two members of the Defence Forces in the Republic are being questioned following the discovery of a pipe bomb in a residence in County Donegal.
The Defence Forces confirmed that the army bomb disposal team were called to the scene in Burnfoot on Monday and dealt with a viable device.
The man and a woman, who are both serving soldiers, were arrested on Tuesday.
Mayor of Buncrana Peter McLaughlin said it had the potential to kill.
The incident is believed to be connected to an ongoing row between two groups of soldiers.
Mr McLaughlin said: "Burnfoot is a nice quiet village. Local people that I spoke to were concerned that a pipe bomb was found.
"It is really surprising and people could have been hurt. This is not the norm for this area.
"If anyone has any information please do assist the Garda."