Conradh na Gaeilge: Irish language 'Patten-style job quotas' needed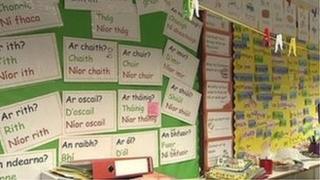 Ireland's civil service should introduce recruitment quotas for Irish speakers similar to the Patten policing reforms in Northern Ireland, a campaign group has said.
Conradh na Gaeilge's Julian de Spáinn said the PSNI's recruitment of more Catholic officers showed how such a policy could work.
"We're not talking about 50-50 recruitment, but we want them to be more ambitious," he said.
He said Irish belonged to everyone.
Thousands of people attended a rally in Dublin on Saturday to protest against what they said was a lack of public services for Irish speakers on the island of Ireland.
Mr de Spáinn said Conradh na Gaeilge wanted to make sure that if people chose to use the language, that the state would back them up.
"In no way are we calling on every civil servant to have Irish, but we're saying there should be enough of them to deal with people who want to use it.
"We're not talking about employing extra people; we're talking about employing people who are needed in the civil service already.
"For example, the language commissioner told us that in the Department of Education and Skills, 1.5% of its staff can provide services in Irish.
"To increase that to 3%, it would take 28 years under the government's new initiative to have 6% of new recruits having Irish, and we think 10% of staff should be able to speak the language within 10 years."
Conradh na Gaeilge are planning to hold a demonstration in Belfast in April to call for an Irish language act in Northern Ireland.