Irish adoption information: 'State must take responsibility'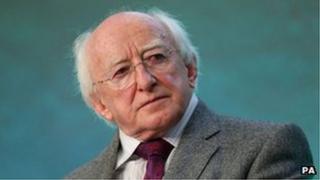 The Irish state, and institutions withholding adoption information, need to take "responsibility", Irish president Michael D Higgins has said.
Speaking to radio station Newstalk, he said the narrative of forgiveness had been "too easily trotted out".
Adopted children trying to find their biological parents are not permitted to see their adoption documents.
Mr Higgins said the state needed to take responsibility for people denied the right to "basic information".
'Worked through'
"One thing I think is horrific is that where information has been denied, where there has been no attempt to meet the reasonable request of people for basic information, where the state has been responsible, the state has to take responsibility," he said.
"Where institutions have been responsible, they have to take responsibility, and the issue is not one of constructing some kind of statement that will enable you to move on and avoid the subject.
"If it is to be resolved, it has to be worked through."
The president was speaking at the launch of a new set of initiatives for Ireland aimed at re-introducing ethics into Irish society.
He has invited philosophers and thinkers from around the world to drive a national conversation about ethics.
The 50 seminars will look at restoring trust in institutions, the ethical connection between the economy and society and the future of Europe.
Stigma
The adoption information rights of thousands of children put into care homes run by both church and state institutions in Ireland has been in the public eye since the release of award-winning film, Philomena.
It tells the story of Philomena Lee, who fell pregnant as a teenager in rural Ireland in 1952, and was forced to give her three-year-old son up for adoption.
Philomena spent the next 50 years searching in vain for him.
Following the film's success, Mrs Lee launched a campaign calling for the release of more than 60,000 adoption files held by the Irish state, churches and private agencies.
The files contain information on the identities of parents and children affected by adoption, which was sometimes forced upon single mothers, due to the stigma of having a child outside marriage in Ireland.
Speaking at the launch, Mr Higgins encouraged people to "deal with the past in such a way that enables you to live today and construct a future for tomorrow".
The president also said an attitude of moving on was not good enough, and that there needed to be understanding of the past before there could be forgiveness.
He said: "It may well be that the capacity to understand comes first, and that forgiveness is for tomorrow, but you have to start the process."