Switzerland declines to sign Croatia free movement deal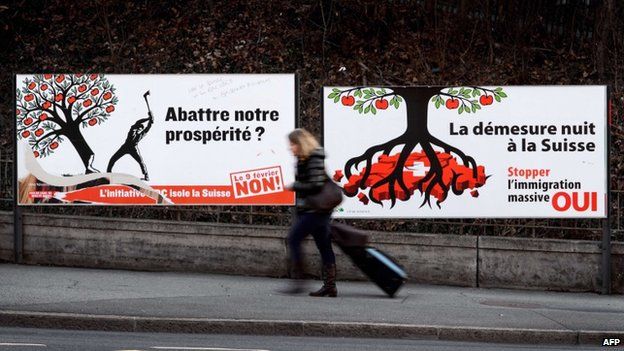 Switzerland has refused to sign a proposed deal granting Croatians free access to the Swiss employment market.
Both countries had agreed the deal last summer after Croatia joined the European Union.
Switzerland said the accord could not be signed "in its current form", after a recent referendum invalidated the Swiss-EU pact on freedom of movement.
Swiss voters narrowly backed a proposal to bring back strict quotas for immigration from EU countries.
The fiercely independent nation is not a member of the EU, but has adopted large sections of EU policy.
Although the Swiss economy is booming and unemployment is low, many Swiss worry about the effects of immigration.
Justice Minister Simonetta Sommaruga called Croatian Foreign Minister Vesna Pusic to tell her Switzerland would not be able to sign the deal extending the right of free access to Switzerland to the EU's newest member state.
Ms Sommaruga also informed Brussels that the agreement needed to be re-examined, her spokesman, Philippe Schwander said.
The 9 February referendum had created a "new constitutional disposition", Mr Schwander noted.
He stressed that the justice minister was seeking a "solution" to ensure Croatians were not being discriminated against.
Following the referendum, the EU warned it would reassess its relations with Switzerland "as a whole".
The economic impact could be great since half of Switzerland's exports are to the EU, with Germany its biggest trading partner.
A quarter of the eight million-strong population is foreign, and last year 80,000 new immigrants arrived.
Since 2007, most of the EU's 500 million residents have been on an equal footing with locals in the Swiss job market - the result of a policy voted into law in a 2000 referendum.
But a coalition led by the right-wing Swiss People's Party has pushed to reverse this deal, calling it "a huge mistake".
Supporters of quotas believe free movement has put pressure on housing, health, education, and transport. They also argue that foreign workers drive salaries down.
But the Swiss government and business leaders say free movement is key to Switzerland's economic success, allowing employers to choose skilled staff from across Europe.