Nazis 'researched use of mosquitoes for war' at Dachau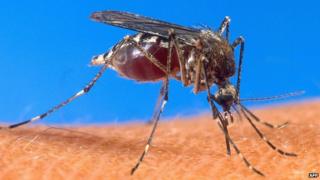 German scientists at Dachau concentration camp researched the possible use of malaria-infected mosquitoes as weapons during World War Two, a researcher has claimed.
Dr Klaus Reinhardt of Tuebingen University examined the archives of the Entomological Institute at Dachau.
He found that biologists had looked at which mosquitoes might best be able to survive outside their natural habitat.
He speculates that such insects could have been dropped over enemy territory.
Heinrich Himmler, the leader of the SS, set up the institute at Dachau in 1942.
Disease
The organisation's work was believed to have focused on insect-borne diseases such as typhus, which afflicted the camp inmates.
Dr Reinhardt, writing in the journal Endeavour, has found evidence that the unit's researchers investigated a particular type of mosquito which could live without food and water for four days.
That means it could be infected with malaria and then dropped from the air - and survive long enough to infect large numbers of people, he says.
He speculates that the scientists were investigating the possible use of malaria - transmitted via mosquitoes - as a biological weapon.
It is not known whether there is a connection between the work of the Entomological Institute at Dachau and the experiments carried out by Dr Claus Schilling at the camp.
Schilling used prisoners as experimental subjects in his research on malaria - deliberately infecting them - and was sentenced to death by hanging at the Dachau trials held after the war.