German minister quits over child pornography inquiry 'leak'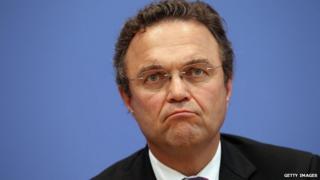 Germany's Agriculture Minister Hans-Peter Friedrich has resigned over allegations that he breached confidentiality during an inquiry into child pornography, German media report.
A Social Democrat (SPD) MP, Sebastian Edathy, is suspected of involvement in child pornography. He has denied wrongdoing but has left parliament.
Mr Friedrich was interior minister last year when he allegedly told the SPD that Mr Edathy was under suspicion.
That leak is now under scrutiny.
Reports say Mr Friedrich might be prosecuted over the affair.
The news website Spiegel says investigators found hardly any material that could incriminate Mr Edathy when they searched his home and offices.
Mr Friedrich is in the Christian Social Union (CSU), a conservative Bavarian party allied to Chancellor Angela Merkel's Christian Democrats.
The SPD is in coalition with the CDU/CSU. Negotiations about forming the coalition were in progress at the time Mr Friedrich allegedly leaked the information about the child pornography inquiry last October.
In his resignation announcement on Friday, Mr Friedrich said he was convinced he had acted "correctly - in both the political and legal senses".
But he said the pressure on him in the past few hours had made it impossible for him to carry on as minister.
He signalled that he did not see this resignation as an end to his political career. "Goodbye - I'm coming back," he said.
Canada investigation
In a short statement, Ms Merkel said she had accepted his resignation with "great respect and great regret". She said it would be up to the CSU now to name a successor to Mr Friedrich.
Reports say Mr Friedrich had told SPD leader Sigmar Gabriel that Mr Edathy was under suspicion, and Mr Gabriel had then informed two senior SPD colleagues - Thomas Oppermann and Frank-Walter Steinmeier.
Mr Edathy's name was linked to a Canadian police investigation into international sales of child pornography, called Operation Spade, German media report.
At the centre of the inquiry was a Toronto-based firm that allegedly sold DVDs and streamed videos of naked children.
Last November Canadian police said the operation had led to 348 arrests and the rescue of nearly 400 children.
Mr Edathy was in the spotlight last year as chairman of a parliamentary panel which investigated police and secret service blunders in connection with a notorious neo-Nazi group.
A neo-Nazi cell was finally blamed for deadly attacks on ethnic Turks in a seven-year murder spree, but the panel concluded that a racist motive should have been explored much earlier on.