Family still hope for Schumacher recovery six weeks on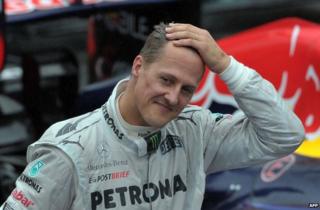 The family of Michael Schumacher say they still "strongly believe" in his recovery six weeks after the skiing accident in which he was injured.
Thanking the public for the good wishes they had sent him in hospital in France, they said: "We are aware the wake-up phase can take a long time."
The racing driver is in a coma after injuring his head in the accident in the French Alps on 29 December.
According to a German tabloid, he had developed a lung infection.
The effects on his state of health are unknown, Bild reported, without citing sources.
His family said in a statement: "The family continue to strongly believe in Michael's recovery and place all their trust in the doctors', nurses' and nursing auxiliaries' team.
"The important thing is not the speed of the recovery but that Michael's healing process progresses in a continuous and controlled way."
The Formula 1 legend, 45, was put into a medically induced coma by his doctors at a clinic in Grenoble following operations to remove blood clots from his brain.
Doctors have kept him asleep to help reduce the swelling.
Investigators say Schumacher was going at the speed of "a very good skier" when he hit a rock while skiing 8m off-piste at the resort of Meribel.
Schumacher retired from racing in 2012 after a 19-year career.
He had won two titles with Benetton, in 1994 and 1995, before switching to Ferrari in 1996 and going on to win five straight titles from 2000.