Will luxury cars speed up Portugal's drive against tax dodging?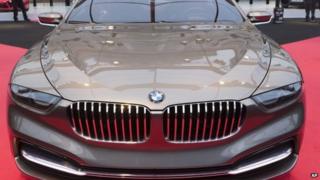 Portuguese taxpayers are to get a chance to win luxury cars as part of the latest attempt by the authorities to crack down on the black economy, which has ballooned in recent years as incomes have fallen, taxes have risen and austerity measures have been implemented as a result of the Eurozone bailout.
Studies point to more than a quarter of economic activity in Portugal being beyond the reach of the authorities, with last year's fresh tax increases likely to have worsened the situation.
Under a Factura da Sorte or "Lucky Receipt" plan approved by the right-of-centre coalition government, draws are to take place weekly from April, with extra ones coinciding with Christmas and other holidays.
At a news conference to unveil the plan, tax affairs Secretary of State Paulo Nuncio said the prizes would in principle be new "upmarket" cars - their makes and models yet to be determined - with as many as 60 handed out each year.
Electronic receipts
The aim is to encourage consumers to demand receipts from traders, so the sale is registered and Value Added Tax (VAT) levied, usually at the top rate of 23% - among the highest in Europe.
All electronically-issued receipts bearing an individual taxpayer's tax number will automatically generate coupons to go into the draws; the number of coupons depends on the amount spent, but all purchases will be eligible.
"A receipt, however small, will always give you the right to a coupon," said Mr Nuncio.
A separate scheme already in force, under which consumers can claim back 15% of the VAT they have paid out, up to a total of €250 ($342/£205) per year, only covers spending in cafes, restaurants, hairdressers and car repair shops.
The government says it expects the number of electronic receipts to jump by 50% this year, from around four million in 2013.
European Union officials have shown interest in Portugal's experience in this field serving as a possible example for other member states.
Mr Nuncio gave a presentation in November at the European Commission's annual tax forum in Brussels on measures to clamp down on VAT evasion.
'Repugnant' plan
But not everyone is so impressed.
Portugal's accountancy association said the lottery would be rewarding an act that should be a civic duty, while the country's most-watched political commentator, Marcelo Rebelo de Sousa - a former leader of the governing centre-right Social Democratic Party - described the flashy prizes as "repugnant" and flying in the face of everything that the coalition has stood for over the past three years.
"This government when it came in said it would change Portuguese habits… [and] institute a cultural revolution by rooting out the tendency for people to live beyond their means," Mr de Sousa said during his Sunday slot on television.
"This prime minister… When he decides to give a prize, what does he give? A tax rebate? Savings certificates? No, he gives luxury cars."
Prime Minister Pedro Passos Coelho did not respond to that outburst but other officials defended the plan.
"We won't back down," Deputy Prime Minister Paulo Portas told journalists on Monday, arguing that in Portugal "it wasn't a tradition to ask for a receipt" but that this had now changed.
"It's only possible to talk about the 'Lucky Receipt' if there are receipts," he pointed out.
'Some scepticism'
Mr Portas said the model for the scheme, in Brazil's Sao Paulo state, had been "a big success" in reducing the underground economy.
Sao Paulo's draws are monthly, with cash prizes of varying size, and up to 30% of the sales tax spent can be claimed back in the form of a credit to pay other taxes.
Sales tax lotteries also exist in Argentina, Colombia, Puerto Rico and - for more than 60 years now - in Taiwan. But in Europe only Slovakia seems to have tried the idea, starting last year.
In downtown Lisbon this week, cafe and restaurant owners agreed that the fact that customers can get back a share of VAT at the end of the year means it is now normal to ask for a receipt, which was not previously the case.
However there was some scepticism about the lottery idea.
"Asking for a receipt because of the car - there might be a small percentage of people who do that, but most won't," said Carlos Loureiro, a businessman recently returned from a spell working in South America where, he noted, taxes are generally not so high as in Portugal.
"It's just another way of the government taking taxes from people," he said of the latest incentive scheme. "And the burden is already enormous."
It has also not escaped people's notice here that lottery winners will be liable for tax on the value of their prize. In other words, a big chunk of the recycled VAT that paid for the fancy car will go straight back into state coffers.