Almost 165,000 customers in Republic of Ireland without power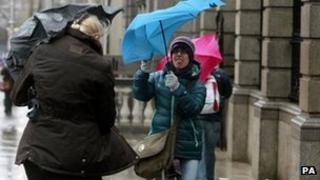 Almost 165,000 customers remain without supply in the Republic of Ireland, following storms on Wednesday.
The Irish Electricity Supply Board (ESB) said it was dealing with more than 5,500 network faults.
Power has been restored to over 95,000 homes and businesses.
More than 2,000 ESB staff have been working to restore power, supported by crews from Northern Ireland Electricity (NIE)
The ESB said the worst affected areas were in Kerry, Cork, Limerick, Tipperary, Wexford, Waterford, Limerick, Clare and Laois.
It is advising anyone involved in clearing fallen trees or other debris to avoid overhead lines and fallen wires.
The ESB said that given the scale of the damage, some customers may be without power for a number of days, especially those affected by isolated faults.
Met Éireann (the Irish Meteorological Service) has a number of weather warnings in place.
AA Roadwatch said road conditions had improved in most places, as earlier ice and snow was thawing and local authorities were dealing with the aftermath of Wednesday's storm.
There are still a number of roads closed and restrictions in place.
Delays
Passengers travelling from airports in the Republic are advised to check with their airline's website before travelling to the airport.
AA Roadwatch said there had also been some delays and cancellations to ferry sailings on Thursday morning.
Passengers are also advised to check their ferry's websites before travelling.
During the storm on Wednesday, winds of up to 100mph (160kmh) were recorded at Shannon Airport in County Clare while gusts of 93mph were recorded at Waterford Airport.
Police declared a major emergency in County Kilkenny and asked people to stay indoors.
The roof was blown off the old stand at the city's main GAA stadium, Nolan Park
High winds caused power cuts, brought down trees, damaged buildings, closed schools and overturned lorries across the south and west of the country.