Dutch ex-minister Els Borst's death 'a crime' - police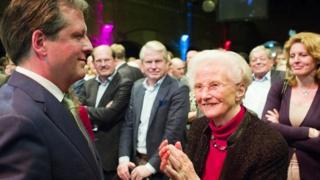 Dutch police suspect the former health minister Els Borst, who was found dead on Monday, was the victim of a crime.
The 81-year-old's body was discovered by a friend in the garage at her home near the central city of Utrecht.
She had suffered an injury and police said analysis indicated the "most likely" explanation was foul play.
Els Borst helped push through legislation in 2001 that made the Netherlands the first country to legalise euthanasia.
She was also behind legislation governing the use of tissue from aborted foetuses for medical research.
'Incomprehensible'
Political figures in the Netherlands have reacted with shock to the police announcement.
"From investigations up to now it has been shown that she probably died because of a crime," a police statement said.
An initial investigation at the house in Bilthoven had proved inconclusive, it said, and a post mortem examination on Tuesday had established that Ms Borst had not died of natural causes. Further examination on Wednesday determined that it was most likely she had been killed.
A senior judicial spokesman told Dutch TV that it was possible that she had been attacked by a burglar.
Els Borst had last been seen on Saturday afternoon at a congress of the D66 liberal party she once led. A friend had tried to contact her on Monday but then went to check on her and found her body.
Current D66 leader Alexander Pechtold tweeted: "Very said that Els probably died through violence. I hope for fast clarity for the family and that she did not suffer for long." Reports said he had been seen in tears.
Prime Minister Mark Rutte said it was a sad development in what was already a very sad affair.
Foreign Minister Frans Timmermans wrote on his Facebook page that he was deeply shocked by the "incomprehensible" news that a crime may have befallen such a "dear, gentle, all-round humane woman".